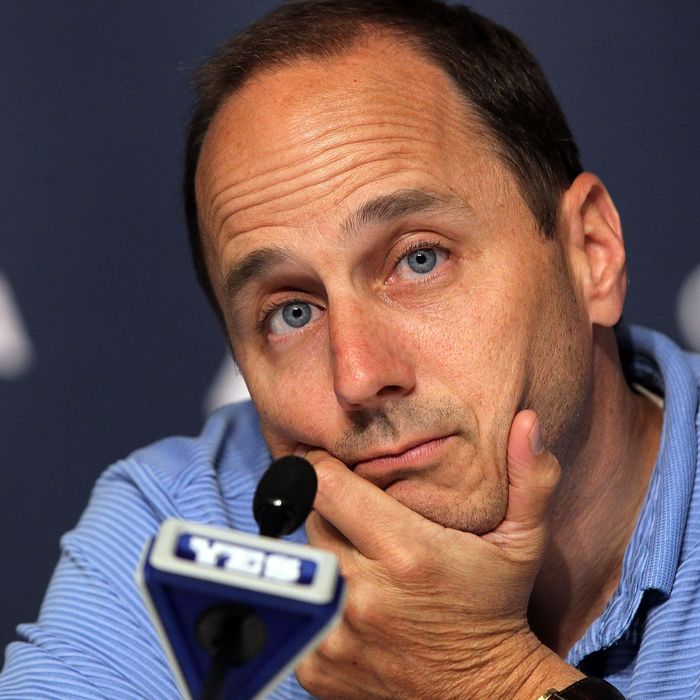 Yesterday's trade deadline came and went, and not only didn't Brian Cashman add a starting pitcher, he didn't add anything: No lefty reliever, no bat for his bench, no nothing. The Yankees team you watched this weekend is pretty much the team you'll be watching for the remainder of the season, except that they'll eventually be getting Alex Rodriguez back. Cashman wasn't particularly desperate to make a trade, and a look at the standings explains why: The Yankees have a 6.5 game lead in the Wild Card standings, and Baseball Prospectus gives them a 97.6 percent chance at making the playoffs.
Though  Cashman could have tweaked his roster in a couple of places, this year's deadline was never really about adding the 2011 equivalent of Austin Kearns. It was about whether the Yankees have enough starting pitching, or perhaps more accurately, whether they'll have the starting pitching come September and beyond. After all, Freddy Garcia and Bartolo Colon are pitching well right now, and Ivan Nova is set to steal Phil Hughes's spot in the rotation. The question, then, becomes whether they can keep that up. (And considering the particular make-up of the Yankees rotation, they have more of a reason to ask that question than most contenders.) Cashman suggested yesterday that it was hard to get teams to come down from requesting some of the Yankees' top prospects and young players, since several of them aren't very far away from the big-leagues. And, of course, no team is going to do the Yankees any favors. But if Cashman really believed he needed another arm, he'd have gotten one. And he didn't.
After yesterday's win over Baltimore, Cashman hinted at his Plan B, should the current rotation falter (which, of course, is always a possibility when it includes a 38-year-old who long ago surpassed any reasonable expectations): Manny Banuelos was promoted to triple-A yesterday, and Cashman didn't rule out his getting to the majors by the end of the season, perhaps even as a starter. And he also mentioned that Adam Warren could be an option for the big leagues as well.
Whether or not the Yankees really dropped out of the Ubaldo Jimenez talks because the Rockies wouldn't let him take a pre-trade physical — as Will Carroll points out, all players must pass a physical in order to be traded — the Rockies' asking price was surely still too high for a pitcher on such a downward trend since last year's All-Star break. And though Wandy Rodriguez could still clear waivers (and thus still be traded) because of his hefty contract, the Yankees would likely want Houston to pick up some of his salary. And so given the market, Cashman decided not only that he has the starting pitching (and bench, and bullpen) for the stretch run, but that he has enough organizational depth to serve as his insurance policy if something goes wrong.
Texas, a potential playoff opponent, was aggressive at the deadline, bolstering its bullpen. Cleveland traded some prospects but added the best starting pitcher available. And the Tigers added a starting pitcher as well. Even Boston (who might not get Clay Buchholz back this season) made a move to add Erik Bedard. But Brian Cashman is comfortable with the team he has. The next two or three months will tell us if he was right.