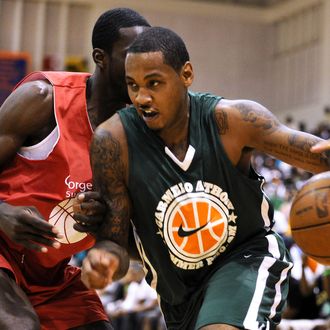 You know you're in a lockout when a lighthearted charity game is news, but, well, it's news. For those of you behind on your trivial basketball trends, note that a number of NBA figures have segmented themselves into roughly organized "leagues", which are really just groups of friends and neighbors who put on occasional exhibition games to raise money and remind us that basketball still exists. One such exhibition game took place last night, as Carmelo Anthony's cleverly named Melo League All-Stars, including himself, Chris Paul, LeBron James, and others faced Washington, D.C.'s Goodman League counterparts, headlined by Kevin Durant and also featuring Roger Mason of the Knicks. The two squads entertained around 4,000 people crammed into a gym at Morgan State University in Baltimore. Money was raised. Highlights were recorded. Eddy Curry played hooky. Excellent. Reporters got a hold of Anthony and Mason (but, alas, not Anthony Mason) after the game and managed to glean a few items of interest to Knicks fans.
First of all, it's pleasant news that Anthony was able to participate, let alone score 27 points. Recall that Melo's elbow (henceforth referred to as the Melbow) has been plagued by chronic bursitis since the end of last season. Even as his eponymous league has held games, Melo's been sittin' and healin' this summer. If a season were imminent, that might be worrisome. Either way, Melo and his Melbow reportedly looked great last night, and the man himself sounded ebullient after the fact:
"I'm back," the Knicks ' All-Star forward said. "I'm back like I never missed anything." 
Well, to be honest, Melo, you didn't miss much. That's great to hear, though. He and Mason both offered some thoughts on the lockout to the Post (thesis: they're not fans of the lockout) and, for our purposes, echoed Amar'e Stoudemire's sentiment that an unofficial Knicks training camp ought to take place some time soon:
"I'm back," the Knicks ' All-Star forward said. "I'm back like I never missed anything." 
Amar'e has also said that it's on him to make that happen, but it doesn't sound like the two have crossed paths very much, globetrotters that they are. In summary, the Melbow is well, the lockout still sucks, and the Knicks (or those who might be deemed Knicks if there existed a basketball team called the "Knicks") should be congregating sometime soon.
Oh, and the Melo League All-Stars won, 149–141. Someday, we'll have basketball games in which the score is the top story!