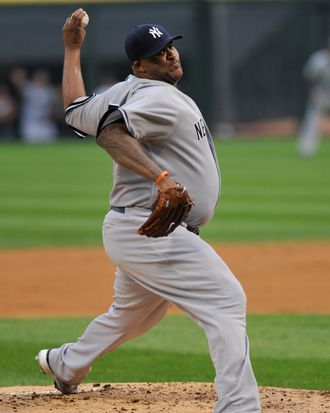 The last time CC Sabathia pitched — a week ago today, when he took a perfect game into the seventh inning against the Mariners — his stuff was as good as we've ever seen it. Last night, though, by his manager's own admission, he had something less than his best stuff. Still, even in a game in which he allowed a season-high ten hits, Sabathia threw eight innings of two-run ball to pick up his sixteenth win of the year in a 3-2 Yankees victory. In the eight games since Sabathia allowed four runs at Wrigley Field on June 25, he's 7-1 with a 1.01 ERA. On a team whose rotation hasn't necessarily performed badly, but whose mix of age (in some cases) and inconsistency (in other cases) makes it hard for fans to truly relax about the state of this team's pitching, Sabathia has earned every penny of the contract he's sure to opt out of at the end of the season. Watching him has been one of the great pleasures of the 2011 Yankees season (even if we know that every brilliant outing means he gets to ask for just a little bit more money this off-season). But that's a concern for another day. For now, it's fun to watch him take the ball every five days or, on this coming turn through the rotation at least, six days.
Phil Hughes, you see, pitches tonight, and he's hardly been a pleasure to watch this year. And Hughes surely knows that his spot in the rotation is in jeopardy — assuming Girardi hasn't already decided that Ivan Nova will take his spot. Nova, who pitched on Saturday in the double-header against Baltimore, will start again on Thursday in the series finale against the White Sox, and Girardi will use six different starting pitchers over the next six days. But that's not a permanent solution. Soon, he'll need to decide on a five-man rotation. (After all, they want Sabathia to take the ball as often as possible.)
A poor outing by Hughes tonight could help make Girardi's decision very easy: Nova, who'd pitched well enough to remain in the rotation earlier in the season, did so again last weekend. Hughes, meanwhile, has struggled all season, and hasn't shown enough improvement since returning from the disabled list. The odd man out could find himself in the bullpen, or even in triple-A. (If Hughes loses his starting job, we'd bet they use him in the bullpen. He's pitched in that role before, and, at this point, we're not sure bouncing between the rotation and the bullpen could mess him up any further. However, if Girardi decides to stick with Hughes — and if he had to make a decision today, we don't think he would — it wouldn't surprise us to see Nova back in Scranton, where he could continue as a starting pitcher, and remain ready if he's needed back in the majors.)
The back end of the rotation is up for grabs these days, though the fact that they have options explains why Brian Cashman wasn't particularly desperate to make a move at the trade deadline. But the top spot in the rotation? Right now, it's about as stable as it gets.