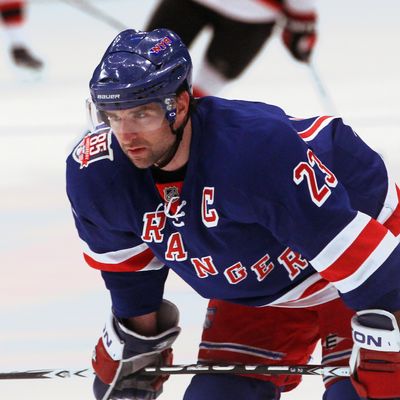 Chris Drury announced his retirement today, and he ends his NHL career with 255 regular-season goals and 360 regular-season assists. He won a Stanley Cup with the Avalanche, won the Calder Trophy as the league's rookie of the year in 1998–99, and in 2006–07, scored a career-high 37 goals on a Sabres team that won the Presidents' Trophy. (His seventeen playoff-game-winning goals are tied for fifth in NHL history.) He won two silver medals in the Olympics. He won the Hobey Baker Award in his senior year at Boston University, and won an NCAA title there as a freshman. (He's the only player to ever win both the Calder and the Hobey Baker.) In his senior year at Fairfield Prep, he was named the state's male athlete of the year by the Connecticut Post. And of course, he famously led Trumbull, Connecticut, to a Little League World Series championship in 1989. (He was the winning pitcher in the title game, and also drove in two runs.) That's a pretty accomplished athletic career.
Of course, the perfect final chapter would have involved receiving the Stanley Cup from Gary Bettman as captain of the New York Rangers, the team he grew up rooting for. At the very least, one would have hoped that it could have ended on a more positive note than getting bought out following a disappointing, injury-filled season.
We already said our good-bye to Drury when news of a buyout first surfaced in June. At the time, we looked back at the excitement that surrounded is arrival in 2007 — as well as the declining production that led the Rangers to cut ties with him. And to the surprise of no one, when that buyout became official, Drury said good-bye to the Rangers organization with class. (The low-key Drury, by the way, officially announced his retirement via a brief press release from the NHLPA.)
Drury played in 892 regular-season NHL games, 264 of them with the Rangers. And though his four seasons as Blueshirt may not have gone the way the he or any of us would have liked, if there's any doubt that he had a career to be proud of, we'd encourage you to read that first paragraph again.