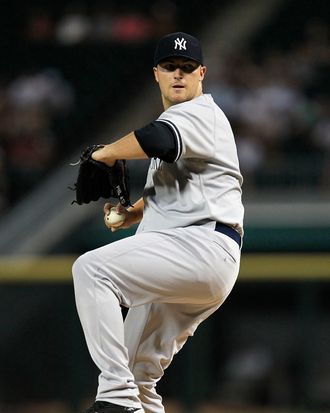 Joe Girardi might not have come out and said it, but it's safe to say that if Phil Hughes pitched poorly last night — like he has far too often this season — he would have lost his starting job. Ivan Nova, who earned a rotation spot in the spring and pitched well enough this season to keep it, would remain a starter after this week's six-man rotation experiment is over, and Hughes would go to the bullpen, or maybe even the minor leagues. Hughes certainly understood that last night, even if his manager didn't explicitly tell him that he was pitching for his starting job. And Joe Girardi's decision would have been a lot easier if Hughes was awful last night. But he wasn't awful. In fact, finally, he was quite good.
We're certainly not ready to declare that the old Phil Hughes — the one who looked so good at the beginning of last season— is back. Starting pitchers, after all, need to be consistent, and offer more than occasional reminders that they've got talent. But last night, to be sure, was a reminder that Hughes has talent. His line looks great, yes: six shutout innings, just three hits, no walks, and four strikeouts. (He threw just 65 pitches, and he'd surely have kept pitching if rain didn't put an end to the game in the seventh inning with the Yankees up 6-0.) But just as important, his fastball had some life on it — he knew it from the moment he struck out Carlos Quentin with a 95 mph fastball in the first — and via River Avenue Blues, his 7.7 percent whiff rate was a welcome improvement over the 5.1 percent rate he had entering the game. It's only one start — against a team that ranks fourteenth in the American League in runs scored, no less — but it was good one. About time.
So what happens now? Well, it's hard to imagine that Hughes would lose his spot in the rotation after his best outing of the year. After all, this was the kind of start the Yankees had been waiting for. Ivan Nova pitches tomorrow, and though he's compiled a nice body of work this year, he might now be pitching not to steal Hughes's job, but to extend the competition. This six-man rotation stuff can't last forever, but it sounds like it could last another week. Here's Girardi after the game:
"We don't have to rush to make a decision," Girardi said. "Maybe we stay at six-man rotation through another time. I don't know what we're going to do at this moment, but I'm happy with what I saw tonight and I really liked it." 
One assumes the Yankees will at least wait until Nova pitches tomorrow before deciding what comes next. And we're not sure it'll be answered for good in the next week or so. For example: Is Girardi simply waiting for either Hughes or Nova to turn in a sub-par outing before making his decision? Or will he go through the rotation one more time and make a decision no matter what? And once he makes a decision, will he stick with it, or make another change the first time Hughes or Nova puts together two poor outings in a row? Last night, Hughes could have made Girardi's decision a lot easier if his struggles continued. But they didn't. Of course, having too many starting pitching options isn't really a bad problem for a manager to have. He should try to enjoy it while he can.