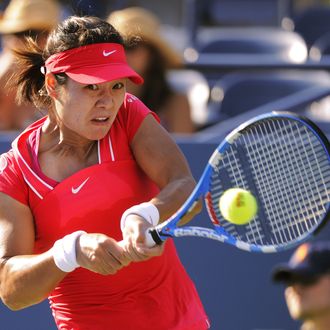 Still reeling from Petra Kvitova's opening-day exit, the women's draw suffered another blow when this year's French Open champion, Li Na, was knocked out in the first round by Romanian teenager, Simona Halep. And here's a fun (and somewhat distressing) bit of trivia to go with it: Now, none of the reigning Grand Slam women's champions are left in the tournament.
In fact, it's the first time in 40 years that none of the year's Slam holders made it to the second round at Flushing. Kim Clijsters, who won the U.S. Open last year and snagged the Australian in January, bypassed Flushing with an injury. Kvitova, who muscled Wimbledon away from Maria Sharapova in July, practically rolled over for Alexandra Dulgheru. And Li Na logged a performance that she described with an expletive during her post-match press conference.
It's not exactly the type of record the women's tour wants to rack up at the moment (nor would they ever, obviously). But the ladies have been taking a remarkable amount of heat lately. Neither Kvitova's nor Li's loss came because the opponent was overwhelming. Instead, each was a mistake-driven match, a comedy of errors. And therein lies the problem. Middling players can be forgiven for inconsistent play, but top seeds and Slam winners are expected to at least progress through the initial stages of a major when the odds are greatly stacked in their favor. Fans and bloggers have even taken to using WTA as an adjective, applied frequently last night to describe Rafael Nadal's match against Andrey Golubev (since the two experienced fairly incredible back-and-forth breaks of serve). The women's tour is suffering a bit of a confidence problem, both externally and from within.
For her part, Li was broken six times in two sets yesterday and sprayed three times the amount of errors as her opponent, who notched her first U.S. Open victory. Li briefly regained footing toward the end of the second set, and it looked like the match might get pushed to a third. But Li then rattled off further errors to drive the final nail into her own coffin. Despite becoming the projected highest-paid female athlete in the world (China is a huge market for a top athlete), Li has had a difficult time building on her success in Paris.
With her and Kvitova's loss, the road to the final for Serena Williams and Sharapova has become significantly less thorny. And speaking of the younger Williams sister, Serena fed her opponent a double breadstick (6–1, 6–1) last night, in her first match at Arthur Ashe Stadium since her foot-fault meltdown in 2009. Would anyone be remotely surprised to also learn that she's the most recent Slam winner still left in the draw, despite her huge injury time-out? Welcome back to Flushing, Re!