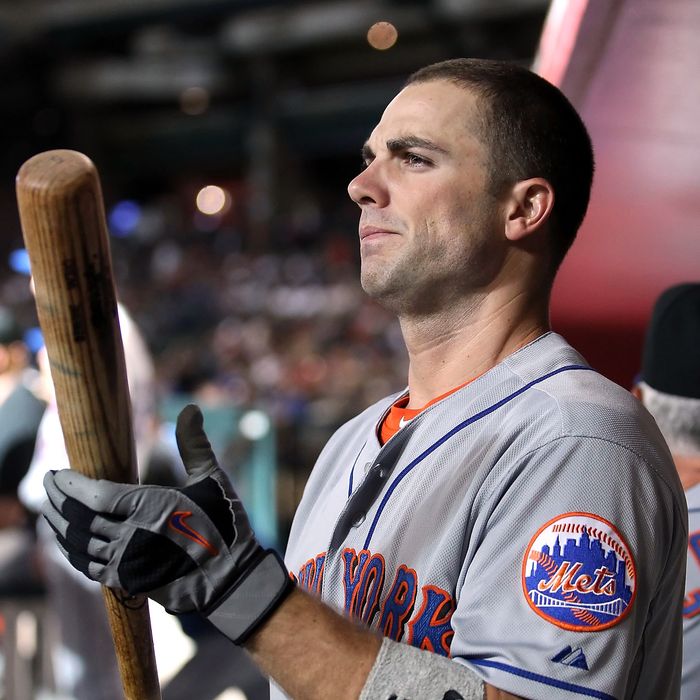 You can count on him still being here.
We have done our best to be optimists all season, but let there be no doubt: The Mets aren't making the playoffs this year. This is shocking, we know. We should have asked you to sit down. The Playoff Odds are down to 0.1 percent — you're saying there's still a chance! — and the Mets are three games under .500. We're sure the rest of you did this weeks ago, but we're ready to start taking a cold, hard look at next year. This season was always supposed to be a transition year, and now that it's (essentially) over, it's time to "transition" to 2012. So, over the next three days, we're gonna take a look at what the Mets look like at each position in 2012, and what decisions they have to make to get there. Today: The hitters!
First Base. Sometime in the next two weeks, by September 1, team doctors will decide whether or not Ike Davis is going to have microfracture surgery. September 1 is the cutoff point for the 2012 season; if he doesn't have the surgery — which the Mets are still hoping he won't need —  shortly after that date, he might not be ready for Spring Training. So why isn't he having it now, you ask? Because microfracture surgery is freaking scary. Davis, still, should be ready for Opening Day next year, and the Mets are surely counting on him to be. But this could end up being career-threatening. Right now, count on Davis being penciled in, and if something goes horribly wrong, maybe the Mets look for a short-term fix, a Carlos Pena type. It'll probably require Davis being hit by a bus tomorrow to start kicking tires on an Albert Pujols or a Prince Fielder.
Second Base. Andrew Fiorentino over at NJ.com has been looking at the second base options for next year, and there's good news: No Luis Castillo! The bad(dish) news: It's probably going to be Daniel Murphy. That's not horrible news: The man can hit. But in the field, he tends to look like a guy who took his bat out there with him. Justin Turner will probably still be hanging around too. Fiorentino stopped his series before he got to Jordany Valdespin, but he's the Second Baseman of the Future. He just got bumped up to Triple A, but he still feels like a mid-season 2012 call-up, at the earliest.
Shortstop. Well, they better sign Jose Reyes now. He should theoretically be cheaper because of his hamstring, but that's also what makes him so risky. If the Mets try to get cute, someone will grab him, because there aren't any other shortstops on the market, unless you consider Rafael Furcal, which you shouldn't. The Mets' off-season will essentially be judged on whether or not Reyes comes back, fair or no.
Third base. To quote Amazin' Avenue, TRAID DAVID WRONG. (Actually, no, please don't.) The Mets have a 2013 option on Wright for $16 million, and we can't imagine Wright would do anything next year to make them think they shouldn't pick it up. Unless, of course, he misses the whole year, which is always a possibility.
Outfield. Jason Bay is still gonna be here! In 2013 too. And 2014 (probably). Better get used to it. Angel Pagan, who's eligible for arbitration and can play a passable center, is likely to remain too. As for right field, Lucas Duda has hit decently during his playing time, but he's a lousy fielder, which is an even bigger problem considering Triple A prospect Kirk Nieuwenhuis's defense is one of his strongest points, and he should be ready for the call next year, assuming his shoulder is okay. Don't forget that Fernando Martinez is still hanging around too. The Mets could try to platoon all these guys, and they may have to, considering how weak the outfield free agent class is. Or, they could take a flyer on someone like Lance Berkman, if they were feeling frisky.
Catcher. Can Josh Thole be the guy? This is the time to see if he can hit lefthanders. If he can, the job could be his. Oh, for the days of Omar Minaya signing 40 catchers in a month.
(Tomorrow: The rotation and bullpen.)