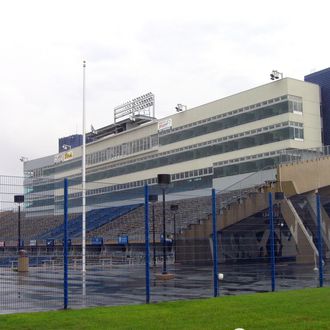 College football starts tomorrow! Dozens of games will be played as programs all over the country begin their uncertain march toward a trophy of some sort. Among those supposed to be kicking off their seasons are the University of Connecticut Huskies and Fordham Rams, who had their season opener scheduled for tomorrow night at UConn. Alas, the tri-state area is still mired in Hurricane Irene's wake, and the UConn–Fordham game will be the next in a long line of sporting events to get delayed.
In this case, it's not a straightforward weather delay for flooding, damage, or lost power. Instead, Connecticut's Renschler Field is being used by the National Guard as a spot to distribute materials to local folks recovering from the aforementioned flooding, damage, and lost power. It's certainly more important than a football game, and, from the sound of things, it'll only push the game to this weekend.
In the meantime, for more on the upcoming game, check out NBC Connecticut's "Dog Pound" blog. Husky fans (that is, fans of the Huskies, although some of them may well be husky) will have to hold out a few more days for new coach Paul Pasqualoni's first game, not to mention his choice for starting quarterback. This is also the beginning of something big for the Rams, who are treating this match-up with UConn as the first of many steps toward regaining their status as a college football contender. But for now, all must wait. Twiddle them thumbs, y'all.