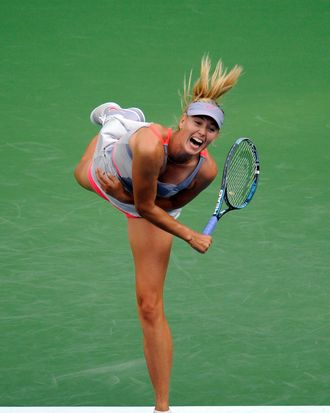 Tennis insiders and players love to debate at what speed the courts are playing. Are they slower or faster than other courts, or do they even vary from the same courts from years past? (Just try to get through Wimbledon without hearing mention of how the surface has changed.) On day one of the U.S. Open, many felt the balls were responding differently this year in Flushing. And after Roger Federer completed his first-round match last night, in his campaign to win Slam 17, he confirmed everyone's suspicions: These courts are playing slow.
For the players that thrive on fast hard courts — typically those whose games are built around an aggressive serve and go-for-broke ground strokes — this is disappointing. The purportedly slower surface affects the strength of their greatest weapons on a stage that was always their playground. 
Federer is none too pleased about it either. In his press conference, he pondered whether the organizers had made a mistake by painting the surface "too rough," claiming that the courts now play at the same speed as the Australian Open (which is generally considered to have among the slowest hard courts on tour). The slower the court, the easier it is for phenomenal defensive players to hang in there and force their opponents to hit another shot until they eke out an error. "You can run everything down," Federer said.  
Which is exactly what British teenager Heather Watson did against Maria Sharapova during the second match on Arthur Ashe yesterday. The 19-year-old Watson, whose ranking has hovered around 100 recently, gave the number three seed a serious scare after she won the first set and then broke the Russian from the outset of the second. Watson found success during that first hour with her excellent defense, high-percentage play, and a remarkably confident attitude. Her serve was lamentably weak, however, and Sharapova did an excellent job of hitting scorching returns off her flabby second serve. But more often than not, Watson was able to (as she put it) "scramble everything back" — which then frequently ended with a hasty mistake from Sharapova. Eventually the three-time Slam winner reigned in the errors and constructed points more effectively, making it difficult for Watson to run everything down. The potentially slower courts might have had an effect on Sharapova's game, but she adjusted, she fine-tuned, and she pulled out the win.
Whether the court speed has actually changed is up for debate, although it's difficult to discredit an evaluation from the greatest men's player of all time. But at least one curious result from yesterday had absolutely nothing to do with the surface. Petra Kvitova, that inspiring surprise Wimbledon champion who everyone is hopeful will lead the women's game into a bright new future once its current roster of reliable stars (namely Kim Clijsters and Serena Williams) are forced to retire, lost in straight sets to a player who hasn't even played a tournament since early July.
According to the match run-time, Kvitova averaged an error every other minute throughout the entire ordeal. Granted, Kvitova has had a rough summer after Wimbledon, but Dulgheru hasn't had much of a summer at all, and the victor's level of play hardly justified the unraveling. Rather, Kvitova admitted in her press conference that the pressure after her maiden Slam has gotten to her; anyone watching yesterday would know that it was indeed a mental defeat.