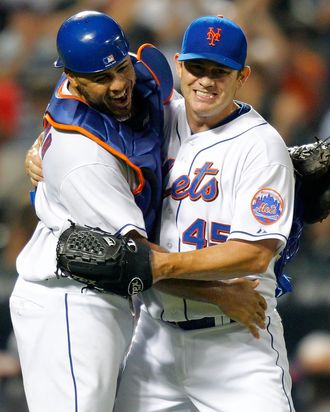 All told, 300 saves isn't that impressive a number. It's not like it's going to get you in to the Hall of Fame or something. Twenty-two men have notched 300 saves, and because we live during a time in baseball history that the save is fetishized, to the point that a stat dominates relief strategy, every single one of those men has pitched within the last 26 years. Trevor Hoffman has the most saves, 601, which is twice the 300 threshold — sort of like someone having 1,000 home runs — and someone's about to pass him. (Mariano Rivera, assuming he ever gets a save again.) Members of the 300 club include Doug Jones, Tom Henke, and Jeff Montgomery, hardly a Hall of Fame inner-tier. Saves are not our most reliable historical stat. But the number 300 is still quite round.
That number, relatively insignificant as it may be, is the reason Jason Isringhausen is back pitching for the Mets, after all these years. Injuries and continued ineffectiveness drove him out of St. Louis, where he had his greatest success, and bounced him around from Tampa Bay to Cincinnati to now, finally, the Mets. It has made no sense for him to keep on going like this; he hadn't been a halfway decent pitcher for a while before his injuries, and, to be entirely honest, Cardinals fans were ecstatic to see him go. (There's a consensus that the Cardinals don't win the 2006 World Series if Isringhausen isn't hurt. Imagine what Carlos Beltran might have done were he facing Isringhausen, rather than Adam Wainwright.) It made no sense for him to keep pushing to come back. But he wanted that 300th save.
Isringhausen notched save No. 299 in yet another Mets comeback victory last night, a 5-4 Mets win thanks to a three-run eighth inning. If you wanted to know what kind of Mets victories are happening right now, they scored three in the eighth with the following batters: Angel Pagan (who homered), Justin Turner, David Wright, Lucas Duda (who bunted), Jason Bay, Nick Evans, Ronny Paulino, Ruben Tejada, and Mike Baxter. The Mets' payroll is $142,797,166, by the way. Anyway, the Mets are now back above .500. Playoff Odds still at 0.7 percent!
So Isringhausen is now just one save away. It's very likely Isringhausen will retire after this season, having (presumably) hit the milestone he was trying so hard to reach. It's fitting that he would do it with the Mets, the team he caused so much trouble for back in the day, from the "Jew Boy" comments to the tuberculosis to the trash-can punching. He's older and wiser and not nearly as good a pitcher now, but he's gonna get his 300 number and then move along into retirement. You can be happy for him all you want, but his legacy will always involve fans lamenting the loss of Generation K and wishing it would have been him other than Wainwright. It's a legacy, anyway.