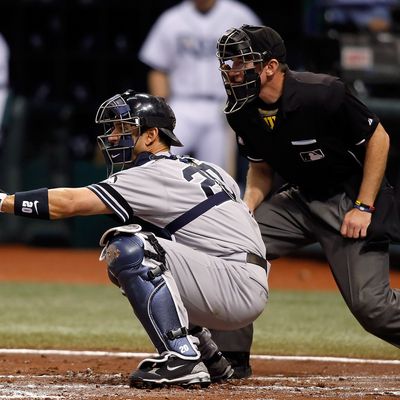 Jorge Posada, back before the Yankees hid his catcher's mitt.
On Saturday, Jorge Posada got a warm ovation from the Yankee Stadium crowd when he came to the plate for the first time since being told he was no longer the regular DH — and that was before he collected two singles, a grand slam, and six RBI. Posada's had a rough season, and Yankees fans are well aware that these could be his final weeks in pinstripes. His skills may have diminished to the point where he's not even part of a regular DH platoon for this team anymore, but he's had a terrific Yankees career, and fans are sure to salute him for it. And there's nothing wrong with any of that. Everyone's career winds down eventually.
But as Posada sees it, even if he doesn't play again for the Yankees beyond the 2011 season, it doesn't necessarily mean he won't play again. He said the other day he'd consider playing for another team, and then added this, before yesterday's game:
"I could catch next year," Posada said in the clubhouse before tonight's game with the Kansas City Royals. "I could have (caught) this year. I could have been a backup this year, could have backed somebody up."
Of course, Posada can say that all he wants, but he'd ultimately need to find a team that agrees with him. Identifying a team interested in him as a part-time DH and backup first baseman would be hard enough. He's having the worst season of his career, after all, and he turns 40 tomorrow.
But finding one interested in letting him get behind the plate — after going a year without catching, no less — would be even harder. Perhaps, if Posada really would like to play next year, he's just saying he believes this in order to boost his value, well before hitting the market. (After all, the more ways you can use him, the more valuable he becomes.) But more likely, Posada really believes he can serve as a backup somewhere next year. We imagine he'll be disappointed when he becomes a free agent, if he believes that to be the case.
Posada thinks he can catch now, but the Yankees aren't letting him. He's admitted he's not happy about the fact that he's no longer the regular DH, even against right-handed starters. And let's not forget what happened when Joe Girardi penciled him in as the No. 9 hitter in the lineup a few months back. But this isn't a case of the Yankees picking on Posada. It's the Yankees trying to get as much as they can out of him, but eventually recognizing that changes need to be made. They have every reason to give him as big a role as they can afford to: He's meant a lot to this organization, and hey, they have to pay him anyway. But come free agency, he'll be looking for jobs with teams for which those two things don't apply.