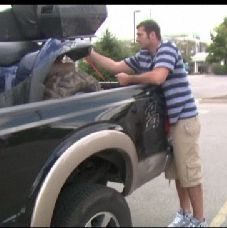 Jorts, seen here not wearing jorts, and his truck.
We know what Amar'e Stoudemire has been up to this off-season (promoting his fashion line, among other things). We know what Chauncey Billups has been up to (getting healthy). And we know what Carmelo Anthony has been up to (chilling with pandas). But what, you ask, has draft-day acquisition Josh "Jorts" Harrellson been up to? Just being a hero, that's all.
You see, Harrellson and some buddies were standing near his truck in the parking lot of a Kentucky bar this weekend when he saw a man who appeared to be drunk get into another truck, turn the key, and proceed to drive right toward them. We'll let Kentucky's WKYT take it from here:
"I just pushed everybody out of the way, and then bam — right into my truck," said Harrellson.

He says the man rammed another car, then hit his truck a second time. That's when, Harrellson says, they knew they had to do something.

"About four or five of us guys jumped on the truck and reached in there and turned the keys off and just tried to make sure he wasn't going anywhere," he said.

He says it was a harrowing experience, but when he discovered there were young children in the backseat, he knew it was worth it. 
Harrellson said that he's fine and that nobody got hurt, though his truck has "a nice little dent in the back." Added Harrellson: "You know, lives aren't replaceable so I'd definitely do it again to make sure kids like that are safe."