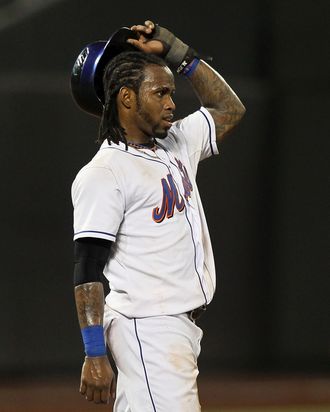 Jose Reyes is still here.
The Mets lost a tough one to the Marlins last night, 7-3 in ten innings, thanks to a Mike Stanton grand slam off Jason Isringhausen. (Another of Stanton's hopefully-that-didn't-hit-any-fans shots.) It was the Mets' third loss in a row, dropping them to one game over .500 and keeping them at seven-and-a-half games behind the Braves in the wild-card "chase." It's more clear than it already was that the Mets are not making the playoffs. Which means it's time to start looking to next year. And it's time to start talking Jose Reyes.
The Mets, as you may have noticed, did not trade Reyes before the trade deadline, something everyone had known would be the case for about a month. General manager Sandy Alderson made the decision that he would be more likely to sign Reyes in the offseason if he didn't trade him than if he did. There are arguments against that, made eloquently by Joe Sheehan and ESPN's Keith Law, namely that Reyes is going to sign for whomever gives him the most money anyway, and if the Mets are willing to be that team, they might as well squeeze some talent out of a two-month rental anyway. Loyalty and goodwill, that is to say, can be signed away with a no-trade clause or an extra $3-4 million here or there. Considering the reduction of the window teams have once the season ends to negotiate exclusively with their free agents for five days, it's not like the Mets' advantage with Reyes is that profound anyway.
It's a solid theoretical argument, and one Alderson surely considered … but it just never seems to work out that way, does it? It's difficult to remember — a quick-and-dirty search this morning brought us no high-profile examples — a star player being traded by the team he had played for his whole career with and then turning right around and re-signing with them two months later. Jose Reyes has been playing in the Mets organization since he was 16 years old; there is something to be said for holding onto that bond for two months, as a show of good faith, rather than introducing some Cincinnati Reds blip to his baseball card and hoping it all works out. Alderson bet on the Mets, which is something people haven't done in a while. That's something.
But just for the sake of discussion, now that the trade deadline has passed and we understand the market better, if the Mets had decided to trade Reyes … what would they have gotten? The Astros received the best package of players of any team at the deadline, from the Phillies, for Hunter Pence (even though Michael Bourn, who's probably a better player, brought back less loot). The Phillies were a motivated team with an obvious hole in the outfield — even if they sent the wrong guy (Domonic Brown, rather than Raul Ibanez) off the roster — and therefore willing to give up the two top-50 prospects necessary for him. Could the Mets have gotten two top-50 prospects for Reyes? The two most likely trade partners were the Giants and the Reds, both teams desperate for a shortstop and possessing the prospects necessary. (The Cardinals would have had interest but wouldn't have traded any of their top three guys, though it might have been worth seeing if they'd have been willing to give up Colby Rasmus a month ago.)
The Giants are somewhat problematic partners because they only had one prospect in Keith Law's top 50, and they were willing to trade him for Carlos Beltran; Reyes, a much more valuable chip, couldn't have brought back TOO much more. Maybe Madison Bumgarner, which might not have been enough, and the Giants would have been hesitant anyway. The Reds have fallen back in the NL Central a bit, but had an obvious need at shortstop and tons of available prospects. Would GM Walt Jocketty have been willing to include catcher Devin Mesoraco and positionless slugger Yonder Alonso for Reyes? With his team fading in the NL Central? We think he probably wouldn't have. The only "major" shortstop to move during the deadline was Rafael Furcal, who went to the Cardinals for a mid-level AA prospect, $1.4 million in cash, and a pastrami. It sorta looks like there wasn't much out there.
So Alderson appears to have made the right decision to hang onto Reyes. Even if Reyes leaves, the Mets will get a first-round pick as compensation, which might be a better package itself than anyone was offering. But the PR disaster would make that "victory" a Pyrrhic one. Now that the Mets have "committed" to Reyes, they need to sign him. Then, in five years, when Reyes is still leading an entirely different Mets team, we'll all laugh about how, at one point, smart people were critical of the Mets not trading Jose Reyes for some middling prospect, just so they could say they did something.