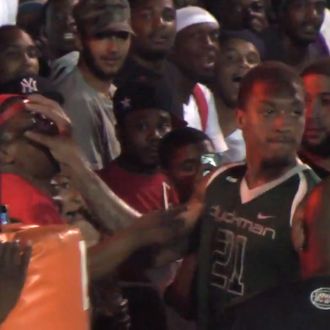 Michael Beasley "mushing" a heckler.
You may recall this video from earlier in the week of Kevin Durant draining long-range three after long-range three during a summer-league game at Rucker Park. But in Durant's latest game, at Dyckman Park in Washington Heights, it was Michael Beasley of the Timberwolves who made headlines, albeit for a very different reason. The Daily News describes the scene:
Beasley's squad, 914, was lined up opposite Durant's Team Nike, as fans packed the uptown court to the brim - with some even climbing on trees to get a glimpse of NBA stars going head-to-head. In the second half, Beasley began jawing with some fans under the baskets, at one point shouting at the crowd "I get paid to do this!"

One of the fans behind a metal barrier, Garland Quince, a regular at Dyckman, was targeted and approached by Beasley. The 6-10, 235-pound power forward then placed one hand on Quince's head and shoved him backward.
Or, as the kids say, Beasley "mushed" him, and video of the incident has been making the rounds all day. Quince, by the way, said he isn't pressing charges against Beasley, who left the court without answering questions after his team's victory. See the video below.