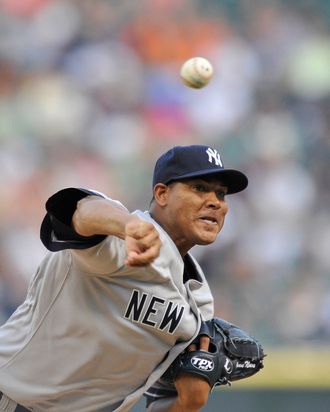 Phil Hughes, as the incumbent in the Yankees rotation, has always had something of an advantage over Ivan Nova in what's become the battle for the final spot in the Yankees rotation. It's why, after Bartolo Colon had solidified his starting job and Hughes came off the disabled list last month, Nova was the odd man out. Of course, Hughes almost pitched away any advantage he may have had, and the thinking goes he might just have saved his spot in the rotation on Wednesday night. Ivan Nova, meanwhile, has been solid when given the chance to pitch in the big-league rotation, and it didn't seem entirely fair that Nova's starting job was on the line again, and that last night's start would go a long way towards deciding whether or not he kept his spot. Not that Joe Girardi had necessarily indicated that one start would weigh heavily in his decision, but considering he'd already announced that Hughes would make his next start, and considering he can't be happy using a six-man rotation more than once, last night's outing was certainly an important one for Nova. And just like Hughes two nights earlier, Nova gave Girardi a lot to think about.
Nova threw seven-and-two-thirds innings last night, allowing just one run, walking none, and striking out a career-high ten batters. Russell Martin said it was the best he's ever seen him, and Joe Girardi said afterward that he doesn't know what's going to happen the next time through the rotation. Our guess: He goes with a six-man rotation one more time, thus giving Nova at least one more start. (He wouldn't yank Nova from the rotation after a start like last night's, would he?) But he'll need to make a decision soon: Six-man rotations shouldn't go on for long.
The Yankees won that game, by the way, 7-2, sweeping the lesser Sox and picking up their seventh straight victory. We'll have more on this weekend's series at Fenway later today, but last night's win, coupled with Boston's loss, means the Yankees will enter that series tied for first in the American League East.