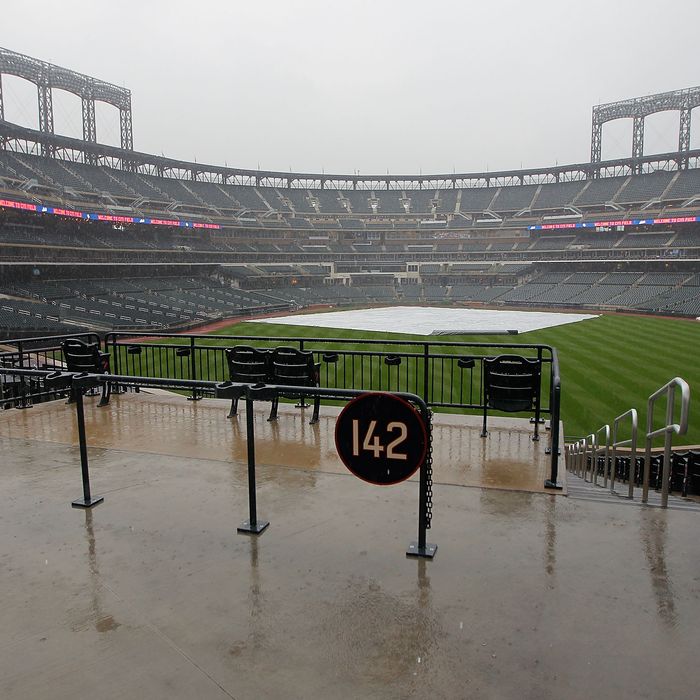 Rain at Citi Field, earlier this month.
If you had plans to attend a local sporting event this weekend, take note: With hurricane Irene threatening to hit New York hard, a number of events have been rescheduled or cancelled.
• According to the Atlanta Journal-Constitution, SportsSouth a Braves broadcast partner, has announced that the Mets-Braves games scheduled for Saturday and Sunday at Citi Field have been called off.

• The start time for tomorrow's Jets–Giants preseason game at MetLife Stadium has been moved up from 7 p.m. to 2 p.m.
•The Red Bulls' home game against David Beckham, Landon Donovan, and the Los Angeles Galaxy scheduled for Sunday has been postponed until October 4. 
• Sunday's Cyclones home game has been rescheduled as part of a doubleheader beginning at 5:30 this evening. Meanwhile, the Staten Island Yankees game originally scheduled for Sunday will instead be played as part of a doubleheader on Monday.
• The PGA has cancelled Sunday play at the Barclays, currently taking place at Plainfield Country Club in New Jersey, and reduced the tournament to 54 holes. It's the first PGA Tour event to be reduced to 54 holes since the 2009 Pebble Beach National Pro-Am.
• Monmouth Park has cancelled live racing on Sunday.
• The U.S. Open is scheduled to begin on Monday, but the USTA has cancelled tomorrow's Arthur Ashe Kids' Day event.