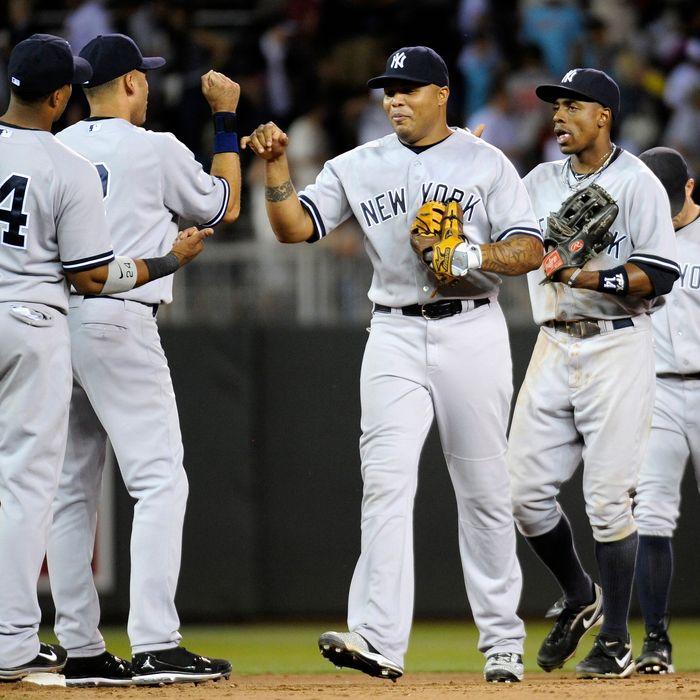 The Yankees celebrate last night's win.
Anyone watching last night's Yankees game on the local New York broadcast wouldn't have known right away that Justin Morneau's first-inning fly ball down the right field line might have actually gone foul: After Morneau made contact, the camera showed the right-center field stands, far from where the ball landed, and since it was initially ruled a home run, that's how it was called in the booth. Luckily, the Minnesota broadcast had a better angle, and after a video review, it was ruled a foul ball. Unlike the night before, there wasn't much to misinterpret about the rules on this one.

The reversal wiped two apparent runs (and yet another home run) off the board for CC Sabathia, who was coming off two consecutive rough outings. His final line was hardly his finest — three earned runs on ten hits over seven innings — but he struck out nine and, thanks to a barrage of Yankees home runs, picked up his seventeenth win of the year.
Speaking of those home runs: Mark Teixeira hit one of them, and Nick Swisher hit another of them. But it was Andruw Jones's fifth-inning shot into the third deck of Target Field that drew a reaction from the Yankee Stadium bench that's typically reserved for ridiculous blasts in the Home Run Derby. Pay particular attention to Teixeira and Swisher, beginning at about the 48-second mark in the clip below. It must be a lot of fun to play baseball for a living.

Anyway, that's the Yankees' third win in four games on their current road trip, and they maintained a half-game lead over Boston in the A.L. East. Phil Hughes pitches tonight, against Kevin Slowey.