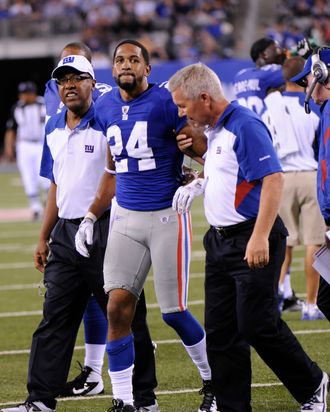 Terrell Thomas, leaving the field last night.
We wrote yesterday that we mostly watch preseason football games hoping that no one gets injured. And then, a few hours later, towards the end of the first half, Giants cornerback Terrell Thomas tore the ACL in his right knee. He'll be out for the season. Preseason football is just the worst, isn't it?
Thomas led the Giants with 101 tackles and five interceptions last year, and the injury leaves the team with an awfully thin secondary. Four of their top six cornerbacks are currently injured, and two of them — Thomas and Bruce Johnson — are out for the year. Prince Amukamara, the team's first draft pick, has a broken foot and said yesterday that there isn't yet a timetable for his return.
And, for good measure, back-up Brian Witherspoon injured his MCL last night, and will undergo an MRI today. If you played cornerback in high school, it might not be a bad idea to send your resume to Jerry Reese this week. In the meantime, he'd be wise to check if league rules prohibit him from covering Aaron Ross in bubble wrap.
For what it's worth, the Giants beat the Bears 41–13. But especially on a night when they suffered such a costly injury, that victory's not worth very much.