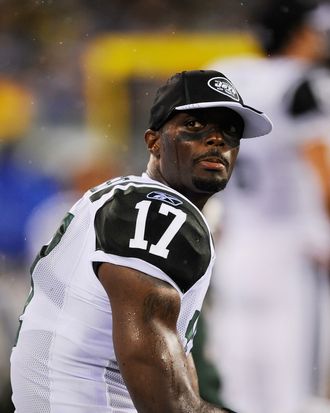 They were supposed to have a preseason football game on Saturday, but instead they had a hurricane. Questionable decision, if you ask me, but they're making up for it tonight. Yes, the Giants and Jets will finally meet at 7 p.m., squaring off in the freshly christened MetLife Stadium for a dress rehearsal of their not-kidding-this-time battle in late December. Though they are decidedly kidding this time, there are a few story lines of note and things to watch for.
First and foremost, it's best that nobody gets hurt. To this relatively casual observer, the overarching purpose of NFL preseason games appears to be depleting one's roster as much as possible. Then again, that's the apparent motivation for playing football at all. The already short-handed Giants lost cornerbacks Terrell Thomas and Brian Witherspoon and defensive tackle Marvin Austin to season-ending injuries in their last preseason game against the Bears. The Giants folks are probably feeling a little paranoid while simultaneously scrambling to fill vacated positions and round out the roster. The Jets haven't had as harrowing a preseason to date, but certain players (Shonn Greene, for one) are returning from injury and will be monitored very closely. Both teams play again on Thursday, so Tom Coughlin and Rex Ryan may be quicker than usual to pull the plug on certain players, though many of the Jets (and Giants, one would imagine) will sit for the next and final preseason games anyway.
Provided nobody gets hurt, the major concern for the coaches will be position battles, many of which are still up in the air on at least one side. There's still uncertainty for the Giants at tight end, punter, and on the defensive line, to name a few. For obvious reasons, the Jets' situation appears a little more concrete, though they've still got a bit of a battle for kicker and are looking to fill in some smaller cracks as well.
Of course, the storyline for national media and many a fan will be Plaxico Burress, now a Jet, facing the team with which he had such a convoluted, unpleasant divorce. Burress did some cool things in his first preseason game as Jet. Though all involved are downplaying the drama, he's probably inclined to do some more cool things tonight, maybe because he feels some measure of rancor, or maybe just because, even at 34, he's still good at doing cool things when people throw footballs at him. No matter what happens, a lot of people are going to be talking about Burress.
And, finally, tonight's biggest story: FREE PARKING! I might just go park at the stadium and wander around the Meadowlands for a few hours, petting turtles and eating mud. Who's with me?