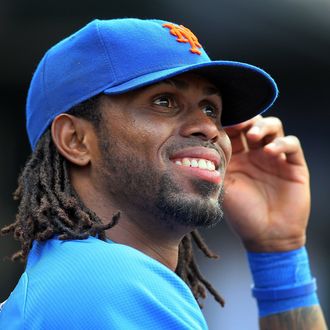 With Hurricane Irene now past us and hurtling northward to disrupt sporting events in the Arctic Circle, (it's actually dissipated and the Nunavut PolarDawgz expect to play as scheduled) it's time for the Mets to get back to doing whatever it is that the Mets do. Saturday and Sunday's washed-out games against the Braves were postponed until Thursday, when the two teams will finish their series with a doubleheader at Citi Field. More imminently, tonight brings its own doubleheader against the last-place Marlins. The Mets, some of whom were evacuated from their homes over the weekend, will be returning from various storm refuges around the area to play the game. One hopes that none of the Mets actually had to sleep the weekend at Citi Field, though if one is 10 years old, that probably sounds pretty awesome. Oddly enough, the surprise vacation paid some dividends for New York, as it gave Jose Reyes and Jason Bay some extra time to rest their various injured limbs. And for both guys, that rest seems to have been just the ticket.
Both Reyes and Bay are expected to return to the lineup for tonight's games. Bay, who's been out since Wednesday with a jammed shoulder, got a few days to unjam it, and it sounds like he's feeling better. Reyes actually got to play some ball this weekend, finishing up a rehab assignment in Binghamton without mishap. He should be ready as well, although the disclaimer remains that he may skip the occasional game from here on out, just to be extra safe ("Reyes Rules" and all that).
The Mets, who were swept in their last series with the Marlins, will send R.A. Dickey and Dillon Gee to the mound tonight against Anibal Sanchez and Ricky Nolasco. Those are two separate events, of course, as the league still hasn't even acknowledged my "simul-header" concept with two pitchers pitching to two batters at the same time. Their loss. First pitch (well, the first of the first pitches) is at 4:10 this afternoon. If you're attending the games, remember to give your seat a good wipe-down before getting settled. There was like a foot of rain this weekend, and nothing ruins six hours of baseball like a damp backside.