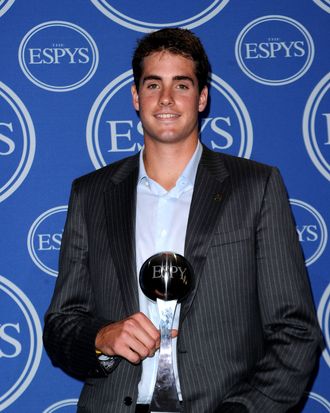 At first glance, it might seem these days like American tennis is on life support. Andy Roddick will enter the U.S. Open this year ranked outside of the top twenty for the first time in a decade, and while Serena Williams has returned strong from injury, she was forced to pull out of the Cincinnati tournament this week because of an ailing toe. (To be fair, few believe this to be a serious injury.) And though her sister Venus went deep into the Open last year, there's much speculation that the 31-year-old is nearly ready to call it a career.
But beneath that top layer of mainstream names are myriad U.S. players that are prepared to orchestrate a thrilling upset on any given day. In fact, Mardy Fish — who's surpassed Roddick as the top-ranked American — did just that in the quarterfinals in Cincinnati, logging his first win over Rafael Nadal. American tennis isn't dying, but it's morphed into a battalion of underdogs. And when it comes down to it, underdogs can be more satisfying to root for, anyway. So if you're looking to support the red, white, and blue at Flushing Meadows, here are the names you should take note of.
The New Sure Thing. While Roddick's star has dimmed greatly this year, his friend Mardy Fish has thrived as the American No. 1 of late. In recent weeks, Fish (who is currently ranked seventh in the world) won in Atlanta, finished second in Los Angeles and Montreal, and clinched the Olympus U.S. Open Series Bonus Challenge, an award given to the most successful player in the lead-up to Flushing. And if that weren't enough, he stunned Nadal, last year's U.S. Open champion, in straight sets on Friday — all of which bodes well for his run in New York.
The Marathon Man. John Isner may forever be known for his epic stalemate on court 18 at Wimbledon in 2010, but the 6-foot-9 Georgia bulldog can claim decisive wins on any given day. While 2011 hasn't been his best year, Isner did impressively bring Nadal to five sets (before losing) in the first round of the French Open — practically the Spaniard's second home — and he nearly clinched a title in Atlanta last month before Fish put him down. Because of his massive, exceptionally reliable serve (which let him hold for eight straight hours in that historic Wimbledon match), he will always be a dreaded opponent in the draw — especially when one considers his recently improved movement, something that's usually difficult for a guy his size. Just be alert if you've got prime seats at the ends of the court for one of his matches, or you may catch a 100 mph serve in the face like a poor spectator did in Washington this summer.
The Up and Comer. Fans may remember Ryan Harrison as the dogged teenager who came to the U.S. Open last year through the qualifying rounds and left as the first American male teen to oust a top twenty seed at a Slam since Roddick did it in 2001. The 19-year-old has grown in spades since then, shooting up the rankings to No. 74 and advancing to back-to-back semifinals this summer (losing both times to Fish). Although Harrison has recently caught flack for his petulant behavior on court and for some questionable comments off of it (this summer, he declared that he'd "never pull a Serena" and then dispensed unsolicited advice for Roger Federer), he's shaping up to be an important part of the future of American men's tennis. And, in this age of power baseline tennis, one can't help but admire a young player who isn't petrified of approaching the net.
The Rabble Rouser. Another inspiring teen, Christina McHale is a relative unknown that you'd be wise to keep an eye on. No stranger to the upset, McHale brought top-ranked Caroline Wozniacki to tears in Cincinnati last week. (Shortly thereafter, Wozniacki fired her father as her coach — a change that was probably long in the making, but that stings all the more after such a steamrolling.) McHale's showing in Cincinnati indicates that she might have conquered her nerves, which have prevented her from closing out matches in the past. If she doesn't face a stacked draw this year, McHale could do some damage.
The Pop Star. Bethanie Mattek-Sands frequently garners attention for her sartorial choices — Lady Gaga's costume designer created a tennis-ball jacket for her to wear on court in Wimbledon, of all places — but her game is solid. Due to a persistent shoulder injury, however, she's questionable for the U.S. Open. But if Mattek-Sands returns healthy, she's always a dangerous opponent — just ask French Open champ Francesca Schiavone, who lost to her earlier this year.