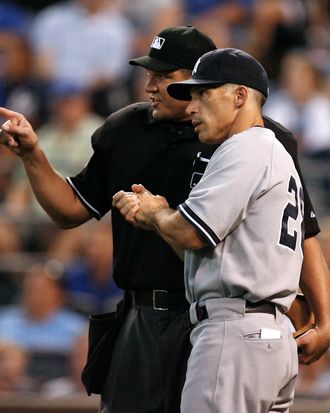 Joe Girardi and home plate umpire Chad Fairchild in Kansas City on Wednesday night.
The Yankees won two out of three to the Royals this week, but if not for the one game they lost, Yankees fans wouldn't have become such experts on the ground rules of Kansas City's Kauffman Stadium. On Wednesday, a Billy Butler fly ball to left-center field was ruled a home run when, long story short, it shouldn't have been. Even Joe Torre, who serves as the league's VP of baseball operations these days, admitted the following day that the umps misunderstood the stadium's ground rules. Not that there's anything the Yankees can do about it: Joe Girardi didn't file a protest, and now it's too late. (At least a video review went their way in a victory in Minnesota last night.) But what happened this week that didn't involve the Evil Empire?
The Mets won two out of three in San Diego, and Jason Isringhausen picked up his 300th career save.
We looked at what the Mets need to do to improve for 2012.
MetLife reportedly bought the naming rights to New Meadowlands Stadium.
We learned that Sean Avery won't face charges in Los Angeles.
A Madoff ruling meant a setback for the Mets' owners.
Chris Drury called it a career.
And we watched Jim Dolan and his band perform at a bowling alley.
That's it for us. Have a great weekend.