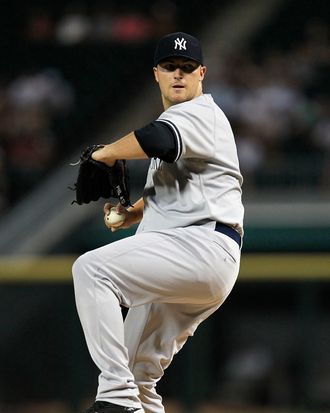 The Yankees didn't add a starting pitcher (or anything else, for that matter) at the trade deadline, but that doesn't mean they've necessarily settled on their rotation for the stretch run. This week, Joe Girardi went with a six-man rotation, essentially opening up a competition between Ivan Nova and Phil Hughes for the final starting job. But both Hughes and Nova pitched well, giving Girardi plenty to think about. Elsewhere in the Yankees rotation, CC Sabathia continued to earn every penny of the contract he's surely going to opt out of, while A.J. Burnett imploded on Wednesday after the Yankees jumped out to a twelve-run lead over the White Sox. The Yankees won all four of their games on the South Side of Chicago this week — that makes seven straight overall — and head to Boston this weekend tied for first in the American League East. But what happened this week that didn't involve closing any gaps?
Plaxico Burress signed with the Jets.
Alex Rodriguez found himself in yet another scandal, this one involving his alleged participation in high-stakes poker games. Speaking of the injured A-Rod, he also resumed baseball activities.
The Mets lost twice to the Marlins, while Johan Santana suffered a setback.
We learned that a video of Jim Dolan singing a song called "Fix the Knicks" is every bit as ridiculous as it sounds.
Sean Avery was arrested in Los Angeles for shoving a police officer.
Video of Kevin Durant's amazing Rucker Park debut made the rounds, as did video of Michael Beasley "mushing" a heckler at Dyckman Park.
Monday's vote in Nassau County didn't go the Islanders' way, so we looked at what happens next.
We wondered where Jesus Montero will play when the Yankees call him up.
And we looked at what the Mets could have gotten in a trade for Jose Reyes.
That's it for us. Have a great weekend.