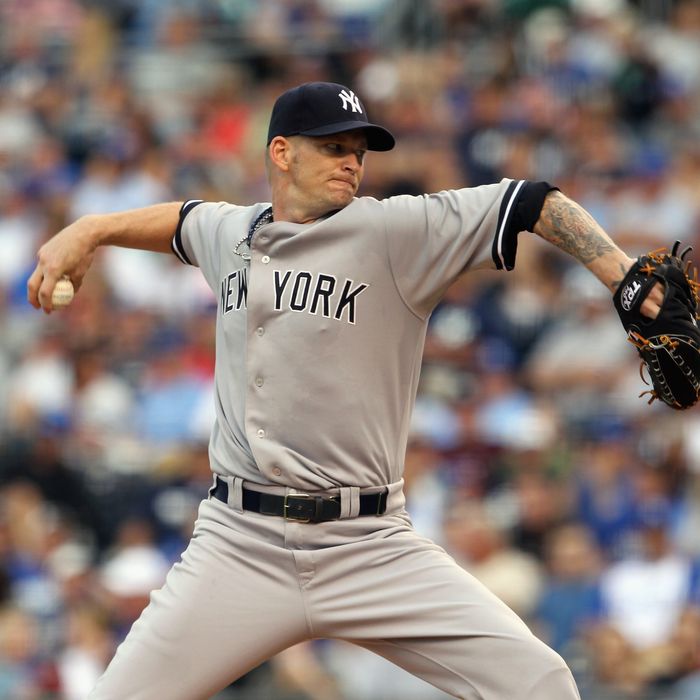 The Yankees beat the Royals 7–4 last night to kick off a seven-game road trip, and A.J. Burnett picked up his first win since June 29. (It was also his first win during the month of August since joining the Yankees in 2009.) It was hardly a dominating performance, though, and even Burnett seems to understand this. Said the righty after the game: "No pie for that. You've got to do a lot better than three runs in five and two-thirds to get a pie." Good A.J. Burnett wouldn't have allowed the three runs in the bottom of the fifth, but Bad A.J. Burnett wouldn't have avoided further damage by getting Eric Hosmer to hit into an inning-ending double play. So perhaps, on a night when Derek Jeter's two-run triple in the sixth put him in line for that elusive win, we got Good-Enough A.J. Burnett.
The win moves the Yankees back into a tie with Boston atop the American League East. Both club teams are nine games ahead of the nearest team in the Wild Card standings, so the next six weeks are shaping up to be a race for the division crown, and quite possibly home-field advantage throughout the American League playoffs. The Yankees and Red Sox play six more times still, but until they next meet on August 30, the Yankees' have a pretty easy schedule: After this series against the last-place Royals, they'll play the Twins (the fourth-place team in the A.L. Central), then two more last-place teams in Oakland and Baltimore. Granted, Boston will also play two of those last-place teams, but they'll also play Tampa Bay (a team nine games over .500) and Texas (the team with the third best record in the American League). Which is all a long-winded way of saying that it would be an excellent time for the Yankees to jump back ahead of Boston.
By the way, Mariano Rivera threw a 1-2-3 ninth to earn the save. Granted it was with a three-run lead, and came against the Royals' seven, eight, and nine hitters, but still, following the Great Mariano Crisis of August 2011 (all two-and-two-thirds innings of it), it's a good sign.