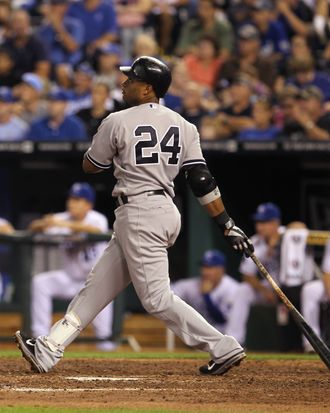 We're not sure we've ever had more trouble sitting through a Yankees broadcast than we did last night, and it had nothing to do with Ivan Nova's rocky outing. Instead, it was the constant chirping of crickets that the YES Network microphones picked up throughout the entire game that drove us completely mad. (Judging by the response on Twitter, we weren't alone.) The constant irritating hum was like listening to a radio station on an old-school walkman, with the dial a fraction of an inch from the correct spot. We get so precious few David Cone broadcasts every year, and during this one, we strongly considered muting the television and just listening in silence.
Anyway, Ivan Nova picked up his twelfth victory last night, but for that he has the Yankees' bats to thank. Nova allowed seven runs on nine hits in five and a third innings, but the Yankees scored eight times in the first four innings, en route to a 9–7 victory. The key blow? A three-run Robinson Cano homer in the fourth — the culmination of a twelve-pitch battle between the Yankees' second baseman and Royals pitcher Danny Duffy — that gave the Yankees an 8–5 lead. Cano had four RBIs on the night: He also singled in a run in the third, lining a high pitch into left field to plate the Yankees' first run of the game.
For the second straight day, we'll note that Mariano Rivera looked just fine, striking out two in a 1-2-3 ninth. And between that win and Boston's double-header split, the Yankees are back on top of the Eastern division, by a half-game.