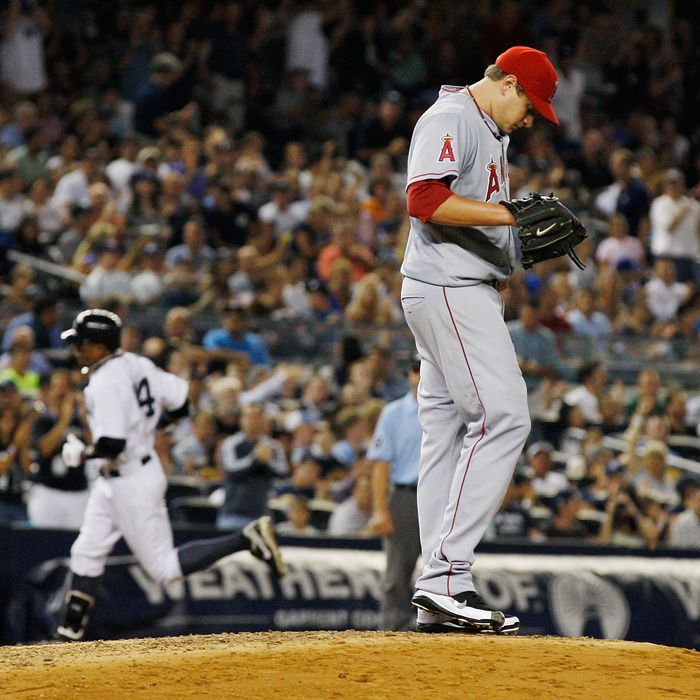 Curtis Granderson rounds the bases after taking Garrett Richards deep.
You would think that the Yankees (a team that's been pretty darn good over the last few years) would regularly tee off on pitchers making their big-league debut, but in reality, it's been something of a problem for them. Going into last night's game, they'd lost their last six games when facing a starting pitcher making his big-league debut, and hadn't won such a game since 2004, when they beat Kansas City's Eduardo Villacis in his one and only big-league start. The Yankees, via Cliff Corcoran, actually haven't fared too badly against rookie pitchers they haven't seen this year, but it was nonetheless a welcome development when the Yankees jumped on Garrett Richards early last night. And so three batters into the bottom of the first — after two walks and a Curtis Granderson's first home run of the night — the Yankees had a 3–0 lead. Welcome to the big-leagues, kid.

The Yankees would more or less cruise from there, jumping out to a 7–1 lead in the sixth and eventually winning 9–3. Robinson Cano fell a single short of the cycle, and Ivan Nova took over the major-league lead for wins by a rookie with 11. (The Yankees are now 14–5 in games in which Nova starts.) Nova also got a vote of confidence from Joe Girardi before the game, when the manager announced that he was no longer pitching for his job on a start-by-start basis.
Which isn't to say he showed off his best stuff last night: He was charged with three earned runs over six-plus innings, walking three and striking out none, but that line could have looked a lot worse if Rafael Soriano didn't get out of the jam that Nova left for him in the seventh, concluding the inning relatively unscathed. Soriano inherited three baserunners from Nova with nobody out, and allowed just one of them to score, on a double play to record the inning's first two outs. Girardi can talk all he wants about how Nova showed maturity by getting by without his best slider, but if Soriano lets all three of those runners score, and if Nova's charged with five runs in six innings, and if the Yankees don't provide him some good run support (which again, is out of his control), last night's start would have been viewed a little differently.
That said, Nova's done more than enough this year to earn a spot in the rotation, and it wasn't fair to make him pitch for his job every time he took the ball. Girardi indicated that A.J. Burnett and Phil Hughes are now battling for the final spot, and based on the performances of the various potential starters this year, that's only right.