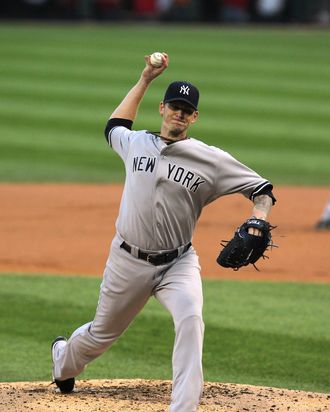 Tonight, A.J. Burnett is scheduled to start a game that Phil Hughes was originally supposed to start. But once Hughes pitched in Sunday night's game at Fenway Park, Burnett was moved up a day and Ivan Nova (who hadn't yet been guaranteed another start) took his place for Wednesday. Meanwhile, the Yankees haven't set Hughes's next start, and, in fact, haven't even set their rotation for this weekend's series against the Rays, leaving open the possibility that they'll stick with a six-man rotation. Got all that? Excellent.
Burnett, Nova, and Bartolo Colon are lined up for this three-game set against the Angels, and while it lacks the rivalry hoopla that accompanies a visit to Fenway Park, it's a pretty important series in its own right for the Yankees, who lead the Angels by seven games in the Wild Card standings. (In turn, the Angels lead the third-place Rays by two-and-a-half games.) A team with the Yankees' record gets to have a checklist of goals for the regular season, ranging from simply securing a postseason berth to clinching home-field advantage throughout the American League playoffs. And so maintaining a healthy lead in the Wild Card standings would give them some breathing room as they try and check off the first of those goals. The good news for the Yankees? They'll miss Jared Weaver, who wouldn't have been slated to pitch in this series even if he wasn't currently serving suspension. Then again, the Angels will miss CC Sabathia, so perhaps that evens out.
Of course, whether the series opener actually happens tonight depends in large part on the weather cooperating. (According to weather.com, as of about 3:45, it's not looking promising.) And, not to get too ahead of ourselves, but the today's weather could impact how Girardi uses his starters during this turn through the rotation: If, for instance, tonight's game were rained out and made up as a double-header tomorrow, neither Burnett nor Nova would be on regular rest for Sunday's game, meaning he'd have little choice but to use both Hughes and Freddy Garcia, in some order, on Saturday and Sunday.
Update: Joe Girardi just announced that Phil Hughes will start Saturday.