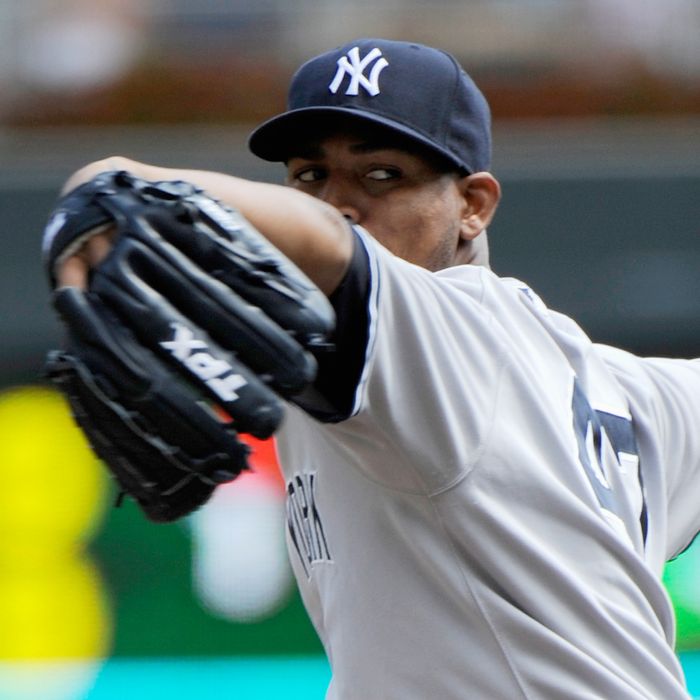 Ivan Nova, yesterday's winner.
The Yankees finished their recent seven-game road trip against the bottom two teams in the American League Central with a perfectly acceptable 5–2 record. On Friday, Phil Hughes threw seven and two-thirds terrific innings against the Twins, and yesterday, Ivan Nova tossed seven shutout innings. That all bodes well for their rotation going forward, and it's enough to make us not want to dwell on Saturday's loss — the first game out of four that they didn't win in Minnesota. But we dwell on that nonetheless. A.J. Burnett made it hard not to.
There's the fact that he couldn't get out of the second inning on Saturday; and that he was yapping about getting squeezed on a 3–2 pitch to Joe Mauer as he walked off the mound, as if his control hadn't been a problem all afternoon; and that after a somewhat encouraging outing in Kansas City, Bad A.J. returned and dug the Yankees a deep hole. (For what it's worth, Luis Ayala didn't help Burnett's line by allowing all three of the runners he inherited to score.)
The good news, we suppose, is that last year, the Yankees had no choice but to pitch Burnett in the playoffs the first time they needed a fourth starter, and this year, there's a good chance they'll have other options. (Girardi might not say as much now, but Burnett's done an excellent job at pitching himself, at the very least, out of the four-man playoff rotation.) The bad news is that unless he loses his spot in the regular-season rotation, we'll never truly breathe easy when he's on the mound, knowing that he's capable of imploding at any time. When Burnett's on, and he's locating his pitches, and his curveball is working, he can be tough to hit. But when he's not on, he can be tough to watch.
But like we said, on the whole, this was a solid road trip, even if the Yankees are still just a half-game up on Boston in the A.L. East. And Alex Rodriguez is back, adding a potent bat to a lineup that, all told, did all right in his absence. He'll rest today along with the rest of the team, and they'll open a quick three-game homestand against 57–70 Oakland tomorrow.