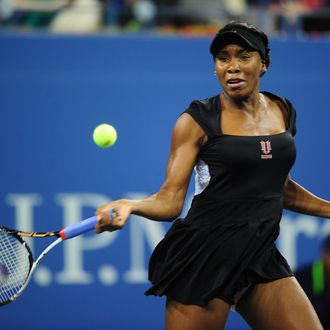 Breaking news at this hour: Venus Williams announced that she will be pulling out of the U.S. Open in Flushing, claiming that she has been diagnosed with an autoimmune disease that's affected her ability to compete.
"I have been recently diagnosed with Sjogren's Syndrome, an autoimmune disease which is an ongoing medical condition that affects my energy level and causes fatigue and joint pain." 
One wonders how recently this diagnosis of Sjogren's — which is most prominently characterized by dry eyes and salivary glands — was made and how long it's been affecting Williams's play. In any event, the departure of Williams only further opens up a women's bracket that already lost Kim Clijsters to injury (and some other notables to defeat). Venus's sister Serena and Maria Sharapova remain the two major contenders left in the field.
Meanwhile, over on the men's side, Robin Soderling will also be pulling out for illness-related reasons. Everybody stay healthy please!