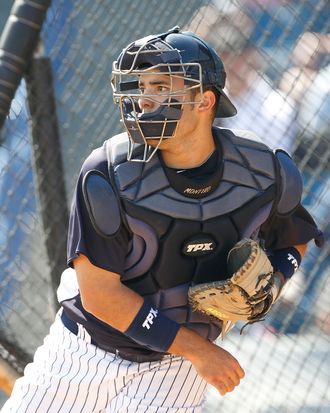 Word this week is that Jesus Montero, having survived another trade deadline this past weekend, is on the verge of being promoted to the major leagues. (Jon Heyman tweeted yesterday that the expectation is that he'll be up in a couple of weeks.) Montero, of course, is the jewel of the Yankees farm system: He was rated as the best prospect in the organization by Baseball America this past off-season, and ranked as the third-best prospect in all of baseball. He's got a slash line of .288/.345/.441 at triple-A Scranton this year, and while that's hardly spectacular, Jay Jaffe writes over at the Pinstriped Bible that "he finally showed considerable pop in July, batting .271/.346/.514 with four homers," also noting that he's been drawing walks, as well. And so Montero, still just 21, appears to be on his way to the majors. But how exactly will he be used when he gets here?

Montero's defense as a catcher has always been considered a weakness, and this line from Kevin Goldstein during a recent Baseball Prospectus chat didn't do much to calm our fears about how he'll perform behind the plate: "Mike Piazza is a MUCH better defensive catcher than Jesus Montero. We need to get away from that comparison, because it's a bad one." Oh.
The Post today reports that the Yankees were close to completing a trade last month that would have sent Francisco Cervelli to Pittsburgh for pitcher Brad Lincoln, but that the teams couldn't agree on the value of the players. If that's true, it would indicate that the Yankees might have considered using Montero as a catcher this season, though, as the report notes, it would be strange to have an inexperienced catcher calling games in the middle of a pennant race. Taking away at-bats that would have otherwise gone to Cervelli and his .295 slugging percentage isn't much of a problem, but using Montero behind the plate could be a risk.
In the interest of being thorough, we'll note that when the Yankees and Rockies were discussing a potential trade involving Ubaldo Jimenez, the Rockies reportedly viewed Montero as a first baseman. But the Yankees already have one of those — one who set a record last night, by the way — so picking up many at-bats at first isn't likely.
Which brings us, inevitably, to the designated hitter spot. Montero has served as the DH sixteen times for Scranton this year (compared to 69 games behind the plate), and it's a position in the batting order where the Yankees could afford to upgrade. Jorge Posada's numbers are better than they were before Joe Girardi dared try to bat him ninth, but he also hasn't homered since June. (His OPS in July was his lowest in any full month this season, and we don't need to remind you that he had a couple of pretty rough months earlier this year.)
So perhaps, when Montero makes his long-awaited major-league debut, his at bats will come at the expense of Posada and fellow right-handed bat Andruw Jones, regardless of whether that's the organization's long-term plan. Posada might not like it, but gradually introducing the highly-touted Montero to the lineup just as long-time catcher Jorge Posada's Yankees career (presumably) winds down would make for nice storyline on the 2031 episode of Jesus Montero: Yankeeography. Though that might be getting just a little bit ahead of ourselves.