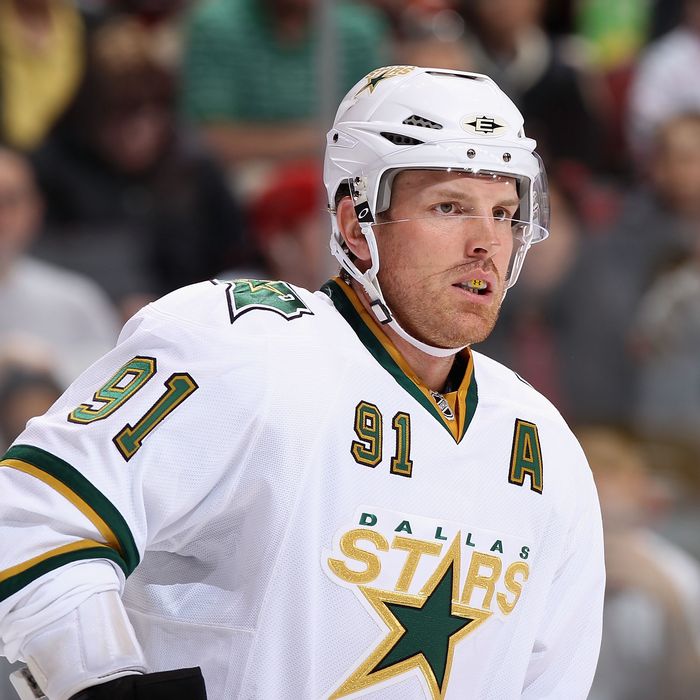 So here's something to stir up some debate during an otherwise dull stretch of the hockey offseason: Andrew Gross of the Bergen Record today touched on the subject of the Rangers captaincy, and looked at each of the three likely candidates: Ryan Callahan, Marc Staal, and Brad Richards. Callahan and Staal, of course, served as alternate captains for the Rangers last season, while Richards wore an A both under John Tortorella in Tampa Bay, as well as with the Stars. And in that piece, Gross pointed to a quote from John Tortorella that he says could be interpreted in Richards's favor. But would Tortorella actually name Richards the next captain of the Rangers? We doubt it.
Here's the relevant portion of Gross's article:
Tortorella was asked June 30 – two days before the team signed Richards – about his selection process for the new captain.

"I think those decisions will come about come camp," Tortorella said. "We'll have our talks, we'll see. Maybe our team changes even more this summer, along the way."

That last sentence could be interpreted as a vote in Richards' favor.

Or perhaps not, as Tortorella has no inclination to discuss exactly what his selection process entailed. 
We suspect those paragraphs are already being blown a little out of proportion — Puck Daddy's post on the topic is accompanied by a photoshopped image of Richards wearing a Rangers sweater with a C on it — but what the heck, let's discuss the possibility of a Brad Richards captaincy.
Part of the argument, we suppose, for giving Richards the C would be that he's be expected to be something of an on-ice leader next year, but a team's captaincy doesn't necessarily go to its best player or leading scorer. Instead, a number of things are in play. Talent is one of them — a fourth-liner would have difficulty becoming a captain, after all. (Go ahead, insert your own Chris Drury joke here.) But so are less tangible qualities like locker room presence, as well as very real considerations, such as settling on a player who will serve as something of a public representative for the franchise.
Of course, the part of the reason Richards is a candidate is that Tortorella likes him. Which is fine — we're sure that plays a part in how these things are selected — but it's here we'll note that Tortorella likes Callahan quite a bit too. And considering that the selection of a captain is a somewhat symbolic move, it makes all the more sense to select a homegrown player as the next captain, as the Rangers rebrand themselves as a team willing and able to let their young players develop.
And though Staal, too, is a homegrown Ranger, no one embodies the style of play that Tortorella has been drilling into this team better than Callahan, who was generally considered the de facto leader when Chris Drury was injured last year. Plus, as the Blueshirt Bulletin pointed out earlier today, giving Richards the C over the fan-favorite Callahan will only make things harder on Richards, who already has a massive contract to live up to. Richards and Tortorella may have a good relationship, and you can read into that June quote from the coach all you want. But it's hard to imagine anyone but Callahan wearing the C when the Rangers open their season in Sweden.