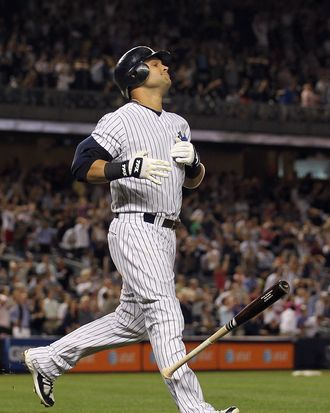 Nick Swisher last night, after making the game's final out.
We've reached the point of this Yankees season where fans are really only excited to see A.J. "Typical Terrible August" Burnett if he's throwing a celebratory, post-walk-off pie in a teammate's face. And they came very close to allowing him to do so last night: The Yankees trailed 6–0 going into the bottom of the eighth inning, eventually cutting the lead to 6–5. And then with the bases loaded and two out in the ninth, Nick Swisher — who'd hit a three-run homer the inning before — hit a long fly ball to right-center … where it was caught by Coco Crisp* about a foot in front of the Yankees bullpen for the third out. Ballgame over. Oakland wins.
Something else happened in the ninth inning that warrants mentioning: With runners on first and second,  no outs, and the Yankees down by two, Joe Girardi had Derek Jeter lay down a sacrifice to advance the runners to second and third. Now, over at Pinstriped Bible, Steven Goldman points out that teams this year that have put runners on first and second with no one out have scored an average of 1.4 runs, while teams with second and third with one out see their expected runs go down to 1.3. So as a general rule, teams have a slightly better chance of scoring if they don't bunt in that situation.
But few months ago, it would have been hard to criticize Girardi for the decision: Jeter wasn't hitting well at all, and so many of his outs came on ground balls that letting him swing away would have just been asking for a rally-killing double play. Now, though, Jeter is red hot — he's hitting .339 since returning from the D.L. — and he'd already collected three hits last night. There's no telling how the inning would have played out if Jeter hadn't bunted, but it's a testament to how he's been turning his season around that we want him swinging away in that situation.
And because no Yankees discussion would be complete without checking in on one of the team's many starting pitchers: Bartolo Colon was unspectacular last night, allowing eight hits over six and a third innings, striking out five and walking none. He was charged with five runs — two of which scored after he'd departed in the seventh — and we're pretty sure that one of the two home runs he allowed still hasn't landed. Colon has already given the Yankees more than they could have hoped for this season, but hopes of him turning back the clock right on through October are fading.
* This post has been updated to note that it was Coco Crisp who caught Nick Swisher's fly ball in the ninth.