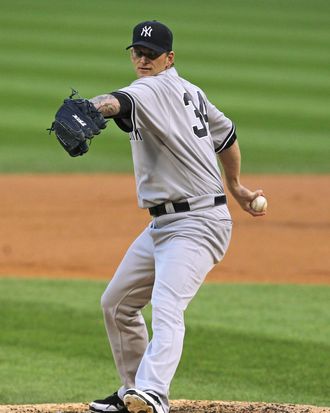 A.J. Burnett, before he ripped off his jersey in frustration.
The Yankees pounded out 23 hits last night, scored eighteen times, and beat the White Sox by eleven runs. Derek Jeter had his second five-hit game of the year, Curtis Granderson had five RBIs, and Mark Teixeira drove in four runs of his own. It was the Yankees sixth straight win, and their ninth win in eleven games. They've got an eight game lead in the Wild Card standings, the best run differential in baseball by some margin, and trail the Red Sox by just one game in the A.L. East. And so it should be difficult, on a night like this — with the 23 hits and the eighteen runs scored — to dwell too much on anything negative. But if there's any Yankee capable of frustrating fans on a day like this, it's A.J. Burnett.
When Burnett took the mound for the bottom of the fourth last night, the Yankees already had a 13-1 lead. He was, at this point, six outs away from all but guaranteeing that he'd pick up his first victory since June 29. (Not that we should judge Burnett, or any pitcher, by wins and losses, but surely he was aware of how long it's been since he's won a game.) Then in that fourth inning, Chicago scored five times. And in the fifth, Burnett got in trouble again: A single, a double, a flyout, and then another single on which Alejandro De Aza advanced to second on a throw. Chicago now trailed 13-7, had two runners in scoring position, and Burnett, lacking a sharp curveball, was struggling to get outs. And so, Joe Girardi pulled Burnett from the game, two outs shy of completing the fifth inning. Burnett ripped off his jersey as he walked down the stairs into the clubhouse, and he'd later say that he was angry not with Girardi but with his own performance. As he should be.
After the game, when Girardi confirmed that A.J. Burnett would indeed make his next start on Wednesday, he said this: "We look at the whole year, and A.J.'s been decent for us." Which is true, we guess, if you compare him to last season. Sure, Burnett's ERA is now over 4.5 (his career ERA is 4.03), and it's been higher in each month than in the one before it. But he also hasn't had an utterly disastrous month like last June, when he gave up 29 earned runs in 23 innings en route to an 0-5 record. Burnett lowered our expectations so much last year that a month like last month (0-3, 4.83 ERA, only two starts longer than six innings) doesn't look so bad. These are not things one should be saying about a pitcher who will make $16.5 million this year, and started the season as the team's No. 2 starter.
Look, Burnett's a veteran with a huge contract, and so he'll continue to take the ball every five games (or every six games, as long as that particular experiment lasts). And the thing about Burnett is that, on any given night, he's capable of a brilliant outing, if all his pitches are working. But he's also capable of doing what he did last night, imploding and forcing Girardi to go to his bullpen in the fifth inning despite a huge early lead. (Girardi actually had to make a similar move just a couple weeks earlier, with Phil Hughes struggling in a rout of Oakland.) And so sure, maybe Burnett's been better than he was last year. But that's not really saying much, is it?
And just a reminder that the Yankees won by eleven runs last night, and have now won six straight and nine of eleven. No matter how maddening A.J. Burnett can be, it's good to remind yourself that, all things considered, things are going pretty well right now.