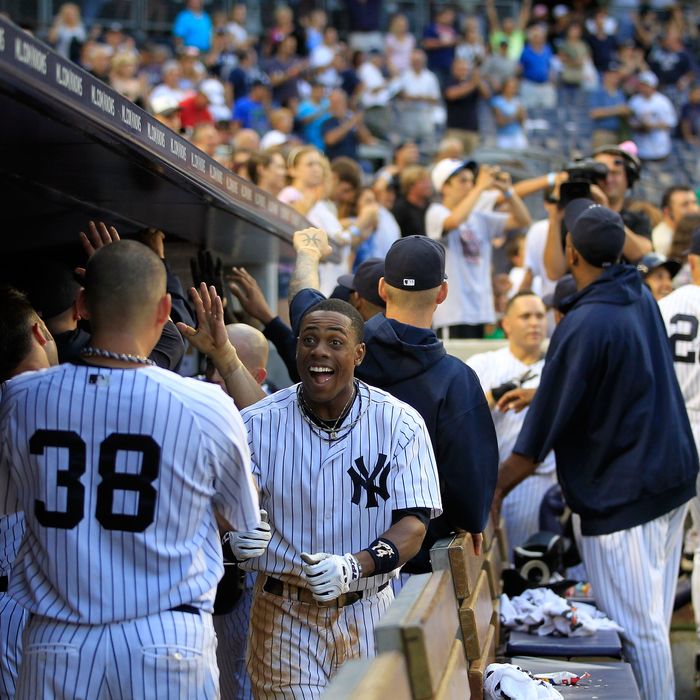 Celebrating the "Grander-slam," as John Sterling called it.
So the Yankees hit a major-league record of three grand slams in one game yesterday, but that only begins to tell the story of their 22–9 win over Oakland. First of all, there's the score itself: According to Elias, via ESPN, it's the first major-league game to end with a 22–9 score in a 109 years. The Yankees batted sixteen times with the bases loaded in the game, tallying six hits (three of which were home runs), walking twice, and hitting one sac fly. Russell Martin, who hit two home runs including one of the grand slams, had five hits and six RBI. Derek Jeter alone batted four times with the bases loaded. (He'd only drive in one run, but he did have three hits on the day, and even briefly could boast a .300 batting average.) And John Sterling gave listeners a special treat when he described the third grand slam of the day — the one hit by the Yankees center-fielder — as a "grander-slam." It was a busy day.
And all of this came after a rain delay of nearly ninety minutes, and after Oakland took a 7–1 lead by the end of the third inning. (We'd like to think Phil Hughes has gotten to the point this year where we don't have to dissect every one of his outings and question what it means for his future as a big-league starter, so we'll instead just say that he wasn't very good yesterday, needing 78 pitches to record eight outs. Cory Wade, who allowed both of the runners he inherited from Hughes to score, didn't help Hughes's line either. (That line? Six earned runs on seven hits, no walks, and five strikeouts.) But Robinson Cano's grand slam in the fifth brought the Yankees to within a run at 7–6, and from that point forward, the floodgates were open.
More weirdness: Jorge Posada, who hadn't played second base since his first year in the minors, played there again yesterday. From the Post:
"I think at 16-8 I was going to put Russell [Martin] at second and [Francisco] Cervelli behind the plate. Jorge went, got his mitt and started saying, "I'll go to second.' Jorgie played in the minor leagues as a second baseman, [saying] if we get two more runs I'm going out there," said Girardi, who moved Posada from catcher to DH this season.

"I've got him and [hitting coach Kevin] Long badgering me. I think everything Jorge has done for this organization, the numbers he's put up and the year he's been through this year, it was just hard to say no."
And sure enough, with with two outs in the ninth, the ball found Posada, who fielded a grounder and threw a little too hard to first-baseman Nick Swisher. Swisher picked the ball out of the dirt and fell over in the process, and then we direct you to this animated gif to see the two of them laughing it up afterwards. (We hate to be that guy, but that game-ending play — the direct result of Posada playing out of position — would have been considerably less funny if Swisher fell just a couple feet closer to the base-runner's path and gotten stepped on.)
Lost in all of this: Alex Rodriguez returned to the lineup after missing two games with a thumb injury that he suffered in his first game back after coming off the D.L. following knee surgery. In a less eventful game, A-Rod's two hits and two walks would have gotten plenty  of attention. But not yesterday.
Boston, by the way, won last night to remain a game in front of the Yankees in the A.L. East. The Yankees now head down to Baltimore, to play five games against the Orioles — or, perhaps more accurately, to play as many of those games as hurricane Irene will let them play.