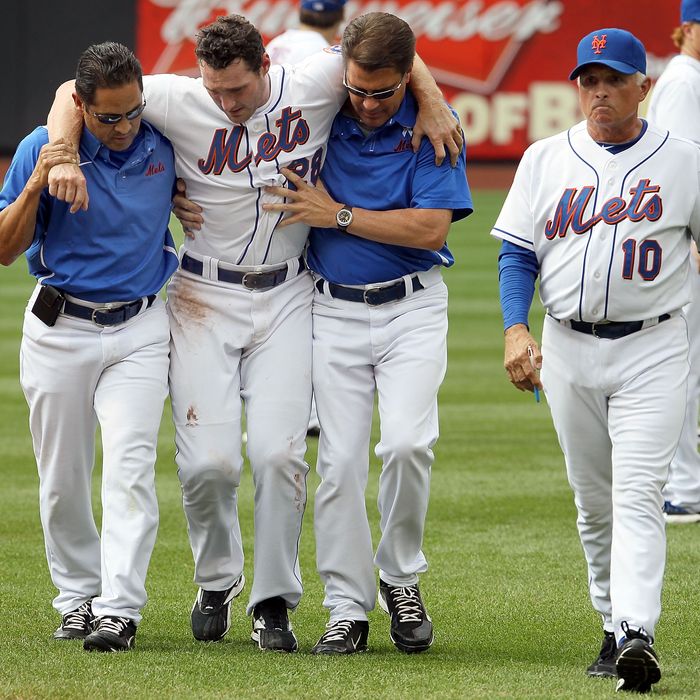 Daniel Murphy, being helped off the field yesterday.
This weekend's Mets-Braves series was portrayed by some as the Mets' last stand, but let's be honest: They were an extreme long-shot to make the playoffs on Friday morning. And, after losing two of three to Atlanta this weekend, they remain an extreme long-shot to make the playoffs. The Mets have been hovering around the .500 mark for a while now, and that's fine, considering that this season was largely about cleaning up the mess left by the Omar Minaya administration and seeing what Sandy Alderson would do (or not do) before the trade deadline. So in the grand scheme of things, the fact that the Mets dropped two out of three to Atlanta won't make much of a difference. But boy, did the Mets lose yesterday's rubber game in a depressing fashion.
There was, of course, the result of the actual game: Chipper Jones, of all people, gave the Braves a 6-5 lead with a ninth-inning single, and the Mets couldn't scrape together another run in what had been something of a back-and-forth game. And there were the injuries: Jose Reyes, still the biggest reason to watch this team play, no matter their place in the standings, left the game with a stiff left hamstring. (The Mets are awaiting an MRI, and haven't yet decided whether they'll need to make a roster move because of Reyes.)
Meanwhile, Daniel Murphy had to be helped off the field after Atlanta's Jose Constanza (to whom we apologize in advance for when we inevitably type his name as "Costanza") slid into second base in the seventh inning. Murphy, who suffered a Grade 2 tear of the MCL in his left knee, will be out for the remainder of the season — something you could have probably guessed by watching him writhing around on the ground after the play. It was the kind of day that required Terry Collins to get creative with his defensive alignment— David Wright found himself at shortstop for the first time in his career — which is to say, it wasn't a good day at all.
If you're keeping score, that's two of the National League's top-five batting leaders who left the game with an injury — both of whom have been plagued by injuries in their careers, on a team that every year has to deal with more than its fair share of this kind of thing.