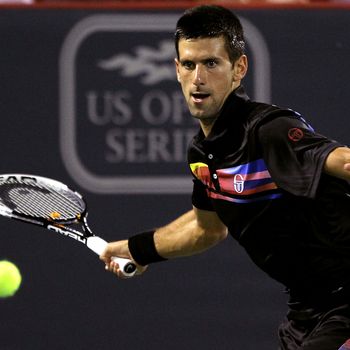 A storm is brewing in Flushing, and it's not Hurricane Irene. (Okay, it is also Hurricane Irene.) Both Novak Djokovic and Serena Williams will come to the U.S. Open Tennis Championships next week as dominant forces. But with heavyweights like Rafael Nadal, Roger Federer, and Maria Sharapova proud champions themselves, crowds could be in store for some tumultuous battles. The tournament begins Monday, as long as Irene's collision with the eastern seaboard this weekend doesn't throw things into disarray. So, who will hoist that sparkling Tiffany trophy in a fortnight's time? 
THE MEN
Novak Djokovic. No conversation about a tennis tournament this season can start with anyone but Djokovic. The man has only lost twice this entire year, and only to elite players Roger Federer and Andy Murray. He also grabbed the Australian Open and Wimbledon titles and beat Nadal five times in a row, all finals. That's a complete turnaround from the tenor of his play leading up to Flushing last year; in fact, this is the man who came within a hair of being ousted in the first round of the 2010 Open.
But that tournament was likely a turning point for the man we see now. He came back from the brink in a semifinal against Federer, in which he faced two match points, and with some well-publicized anti-gluten adjustments to his diet, the Serb has been on a tear ever since. Djokovic's second loss this year came in the Cincinnati final against Murray last week, but one shouldn't read too much into it. The Serb was obviously exhausted — after all, the more you win, the more you play — and with a full week of rest before the Open, it's likely that he'll be back on his winning feet once again. 
Rafael Nadal. How one's fortunes can change in a year. In 2010, no one could touch Nadal, and he closed out the year with three Slam titles. In 2011, the Spanish lefty has been persistently shut down by Djokovic, on clay, grass, and hard courts. The normally tight-lipped Nadal even admitted to the press after Wimbledon that the Serb is "in my head." He's been otherwise solid, and he did win his annual French Open title, but his summer hard-court season has been shaky. He was knocked out in his opening match in Montreal and survived through to only the quarters in Cincinnati. But Nadal also had a questionable summer last year, too, and we all know how that turned out. (See: The tennis history books.) Without the security of two definitive Slam titles in a row, this year may be a taller order. Within his half of the draw, he's still the favorite for the final, but if he encounters Djokovic on that second Sunday, he'd better hope his mental game is in check. 
Andy Murray. It takes a special sort of masochist to choose Andy Murray as a Slam favorite, since a dominating performance one day can devolve into a maddening defeat the next. (And vice versa). His summer results are an excellent example. In Montreal, he suffered a second round loss to Kevin Anderson, then followed it up by winning the title in Cincinnati. He's mentally wilted in three Slam finals in his career, but John McEnroe said in the draw ceremony yesterday that the 2011 U.S. Open is Murray's "best chance ever to win a major." So, perhaps with his third-round loss to Stan Wawrinka last year, the pendulum is ready to swing back. 
Roger Federer. Although Federer still exhibits flashes of genius and he can never be ruled out, the 30-year-old Swiss continues to get overpowered by less-than-elite players. Many blame his one-handed backhand and his stubbornly small, heavy racket. But regardless, his march to the U.S. Open final is no longer a sure thing. He'll likely breeze through his quarter of the draw, but a potential clash with Mardy Fish in the quarters or Djokovic in the semis could be death blows. If he leaves New York empty-handed, it'll be the first time Federer has completed a season without a Slam title since 2002. 
THE WOMEN
Serena Williams. On the women's side, this preview could probably begin and end with Serena Williams. She came back from an eleven-month hiatus this year in phenomenal fashion, winning two back-to-back titles this summer. With Kim Clijsters unable to defend her win in Flushing, many believe the trophy is Serena's for the taking. Williams's likely third-round opponent is the unlucky Victoria Azarenka, a fantastic player who left the tournament early last year when she collapsed on the ground from a concussion.  Even though Azarenka will put up an entertaining fight, she's still due for a drubbing. Although Williams suffered an early exit at Wimbledon in July, the U.S. Open is in her crosshairs.  
Maria Sharapova.  Finally more consistent and competitive after shoulder surgery, Sharapova was deemed a shoo-in for Wimbledon … but then she folded to an inspiring young Czech, Petra Kvitova. In Los Angeles this summer, she was expected to give Williams a run for her money in a quarterfinal popcorn match … but then she visibly crumbled under the pressure. Sharapova's hard serve and wicked, aggressive ground strokes have both returned, but these weapons fail her under pressure. She's projected to meet Kvitova in the quarters, fellow Russian Vera Zvonareva
in the semis, and Williams in the final. But the way it's been going lately in the clutch, there's little chance for a championship title in New York. 
Petra Kvitova. If you don't already recognize this name, learn it. Despite winning Wimbledon this year and overpowering Sharapova, many still aren't familiar with Kvitova. It's a shame, too, because unlike Francesca Schiavone and Li Na — who won surprise titles in Paris in the past two years — Kvitova could very well become a repeat Slam winner. She's a powerful ball striker with a crippling lefty serve that keeps her opponents off balance. And she's only 21; her skills are only going to get stronger and more refined. Hot off her Wimbledon run, Kvitova's confidence and hard-court-tailored game should take her far in Flushing.   
Caroline Wozniacki. Although she returns to the Open as the top seed, Wozniacki still hasn't inspired confidence in her critics. And perhaps carrying around the number one ranking (without a Slam to her name) is finally taking its toll on her mental game. Belittled as a "pusher" — someone who's not particularly dominating or skillful but wins by frustrating an opponent by always getting the ball back — the Dane was reduced to tears after her loss in Cincinnati to Christina McHale, a relative unknown. Soon after, Wozniacki fired her father as her coach and has been evasive about his replacement. Either way, she'll come to New York a shaken player with a tenuous coaching arrangement, projected to face a rejuvenated Williams in the semifinals.   
PREDICTIONS
Men: Novak Djokovic
Women: Serena Williams
Lindsay Sakraida will be covering the U.S. Open for The Sports Section throughout the next two weeks.