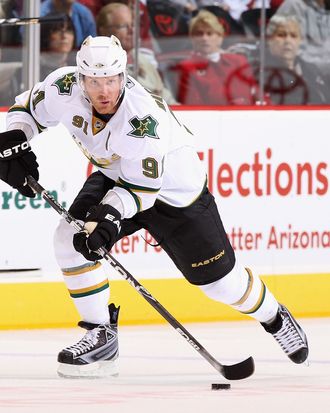 Brad Richards was the biggest name on the NHL's free-agent market this summer, and on July 2, he became a Ranger, agreeing to a nine-year, $60 million contract to center the team's top line. Richards will get a chance to skate with his new teammates this week when the team begins training camp, and last week (before he was named an associate captain), he spoke with The Sports Section about free agency, mentoring younger players, and the team's upcoming trip to Europe.
How are you liking New York so far? Are you settled in?
I'm pretty much settled as far as living. I'm in the city, down by Tribeca. That part's done. That took a while, but pretty much got that handled. Now I'm just kind of waiting for camp.
How much time had you spent in New York before this summer?
Usually one or two weeks a summer, maybe more — not all at once. I mean, it's New York. I love golf, so I have a lot of friends who golf in the area. So in the area, not necessarily in the city, but Long Island, and stuff like that. Obviously, it's a great city.
How much did the city itself play a part in your decision to sign here?
Well, it's an experience, but it's still the team, an Original Six team. You're here to play hockey; the city's a bonus. But I'm not going to lie to you, it's a unique opportunity. But I'm here to play hockey, so we looked at the hockey stuff first.
Getting into the hockey stuff, how much have you spoken to, or even skated with, Marian Gaborik?
Skated with him and talked to him, met him Tuesday.
Was that the first time since you've been here?
Yeah, but we'd talked a little bit on the phone. I'd never formally met him face-to-face. We talked Tuesday, skated a little bit. Just messing around out there, trying to get in shape.
Have you talked with Coach Tortorella about who might play on your left side?
I haven't really talked to him a whole lot about it. I'm sure that might come up [at training camp]. But we haven't sat down and gone over who I'm playing with. That's gonna be his choice. He knows the team better than I do, and the players that might fit with me. I'm sure there will be different looks.
Take me through those first couple of days in July. Is it just a frenzy of phone calls? Are you hearing from your agent, or directly from teams?
I was with my agent that day in the office in Toronto. It was a pretty crazy day. A few teams showed up. With a few teams, we did conference calls at different times through the day. It was one of those days you wanted to finish right away, but with the process, you know it's probably going to take a little time. I wanted to be very thorough with it. It's the only time in my life I'm going to have the opportunity to pick a team. Usually it's the other way around.
What was the Rangers pitch to you? Who did you speak with?
A bunch of them spoke on a conference call, and I talked to Torts one-on-one. Every team has their pitches; it's all kind of the same. But it's what I believe in, and I believe in what they're doing. It's a young, core group that's growing together, and doing it that way, and not just trying to plug holes. It's not a one-year thing for me to sign here. I want to sign here to grow with the team, and be competitive for the next three, four, five, six years. It wasn't just try to win this year. So that's what I looked at: Where's it going to give me a chance to win over time? This is where I thought was a good fit for me.
I imagine Glen Sather was on that call, so was that his pitch, about building something over time?
I think Glen made a pitch for the organization, what it's like to play here. I think they left that up to Torts. They knew Torts and I had a good relationship. But I'm not stupid. I knew what was going on here. I could see them using their young guys, and if you watched the Rangers at all, that's the direction they were going. And they have a great goaltender, too, to complement all that, so it just works.
You've said that stable ownership was important to you. What was James Dolan's pitch during the call?
You know I can't remember exactly, but everything was positive. There was never a question about whether he was committed, or anything like that. They made all that clear in the call. He wants to win, too, and he wants to be putting every effort and every resource forward to try to help us win.
As someone's been in the league a few years, and has gone through a Stanley Cup run, what do you see as your role on a team with a lot of young players?
I always remember how it was to play with some of the older guys when we were young, like Dave Andreychuk, our captain back then. And how he showed us how much he appreciated the game, and how much he loved the game at an older age. He probably enjoyed practicing more than we did at 22, 23, and he was almost 40 years old. That always sticks, and I just remember that influence he had on us. He acted like he was one of us, 22, 23 years old — on and off the ice. It made us feel so much more comfortable playing, and I'll always remember that. And that's kind of how I feel I'm going to be. You know, try to have fun with the young guys, and try to keep them loose. There's a lot of talent there. You just gotta let the talent take over.
Are you looking forward to the trip to Europe, and then the long road trip before returning home? Is that something that could be tough to get through?
Well, no matter what, it's there, so you can't look at is as "Is it going to be tough to get through." I think it'll be good for me to get to know the guys, and get to meet everybody. You know, some players don't need that right now; I do — to get to know everybody. But it is what it is. We have to deal with it, we have to face it, and we'll get some good time together anyway, and we'll be a close group coming back from it.
Did you think the Stars were going to move you at the trade deadline last year?
It doesn't matter what I thought, because I was still in control of the whole situation. So, you know, they talked about exploring options, but it never got to the point where anybody called me and said, "Will you wave your no-trade?" So, yes and no. You kind of looked at it both ways. I knew that if anything was going to happen, they were going to have to involve me, and I was never involved in anything. So I kind of knew that nothing was going to happen.