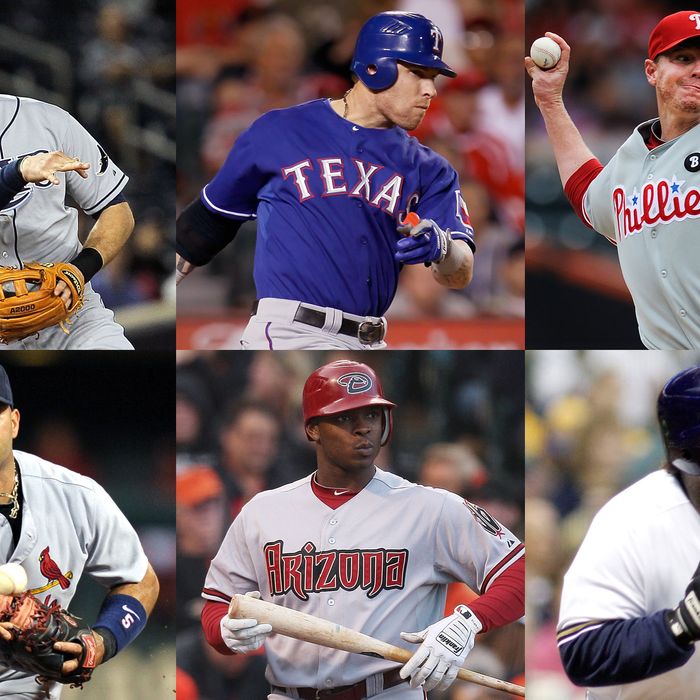 All these guys will be playing!
For baseball nerds like us, honestly, October is just the most wretched month. It's wonderful, of course; so much baseball, so much intensity in such a compact period of time. But it's all so much, and it all goes so late (if first pitch tonight at Yankee Stadium is before 9 p.m., we'll be stunned), that you spend most of the month walking around in a zombie daze. It is not always the most productive work month. (Unless, of course, you happen to write about sports for a living, ahem.)
It's all-encompassing even before you start talking about the Yankees' series. We'll have tons more on the Yanks throughout the day, but for now, let's whet the proverbial whistle with a look at the other three Division Series. Yes, other teams play baseball too. You can find the full, regularly updated schedule right here.
National League Division Series: Philadelphia Phillies vs. St. Louis Cardinals
Game One, at Philadelphia: Saturday, October 1, 5:07 ET
Game Two, at Philadelphia: Sunday, October 2, 8:07 ET
Game Three, at St. Louis, Tuesday, October 4, TBA
Game Four (if necessary), at St. Louis, Wednesday, October 5, TBA
Game Five (if necessary), at Philadelphia, Friday, October 7, TBA
One can make an argument that the Phillies made life more difficult for themselves by sweeping the Braves in the last three games of the season. Completing the Braves' collapse essentially handed the Wild Card to the Cardinals, making them the Phils' first-round opponent, rather than the Diamondbacks. (The Cardinals are the hottest team in baseball over the last month.) That said: The Phillies won 102 games and have one of the most dominant rotations in recent baseball history. You gotta beat everybody eventually.
The Cards are theoretically a tougher matchup because of their lineup, but that lineup might be missing both Matt Holliday (who's definitely out for Game One) and Rafael Furcal. And the pitching matchups in the first two games are Roy Halladay versus Kyle Lohse and Cliff Lee versus Edwin Jackson. If the Cardinals can somehow split the two games in Philly, they could pull the upset, considering Chris Carpenter and Jaime Garcia are the next two starters at Busch … but we don't think they're going to split the two games in Philly.
The Phils have dominated the National League all season, and there's little reason to think this series will be different. Also, we typed these three paragraphs with our fists and head.
Prediction: Phillies in four.
National League Division Series: Milwaukee Brewers vs. Arizona Diamondbacks
Game One, at Milwaukee: Saturday, October 1, 2:07 ET
Game Two, at Milwaukee: Sunday, October 2, 4:37 ET
Game Three, at Arizona, Tuesday, October 4, TBA
Game Four (if necessary), at Arizona, Wednesday, October 5, TBA
Game Five (if necessary), at Milwaukee, Friday, October 7, TBA
They have their holes — defense, bottom of the order hitting — but the Brewers are one of the most complete teams in the postseason. They have superstars in the middle of the lineup, a stacked bullpen (even with K-Rod still complaining about pitching the eighth inning), and a rotation so stacked that Zach Greinke might not start until Game Three. Plus, the Brewers are due, man: The last time they won a postseason series, they were in the American League. That was in 1982, and they'd then lose in the World Series to the St. Louis Cardinals, who are now a division rival. It has been a while.
The Diamondbacks have been one of baseball's best stories, and their rotation (particularly Ian Kennedy, whom the Yankees might kind of like right about now) is underrated. In a postseason series, anything can happen, and Justin Upton had his bust-out season at 24. But of all the division series matchups, this looks like the biggest mismatch, to us.
Prediction: Brewers in three.
American League Division Series: Texas Rangers vs. Tampa Bay Rays
Game One, at Texas: Today, September 30, 5:07 ET
Game Two, at Texas: Saturday, October 1, 7:07 ET
Game Three, at Tampa Bay, Monday, October 3, 5:07 et
Game Four (if necessary), at Tampa Bay, Tuesday, October 4, TBA
Game Five (if necessary), at Texas, Thursday, October 6, TBA
You know, deep down, you have to admit: This series would have been more fun to watch if Boston were in it. (That is different from saying one is "sad" the Red Sox aren't in it, of course.) Will the Rays sell out any playoff games? Will it be close? Will a dramatic moment end up with a ball on the catwalk?
In a macro sense, the Rays look overmatched, and less capable of competing with the Rangers than the Red Sox would have been. Their lineup is thin, their rotation is at the point that their Game One starter is a guy with 9 1/3 major league innings and their closer is Kyle Farnsworth. And the Rangers have been as focused on returning to the World Series as the Yankees have been; they're an enterprise now, just tweaking at the edges to get over the top.
But you never know with the Rays: Matt Moore could get hot and shut everybody down, or Desmond Jennings could hit .675 for the playoffs. With this many young players, you could catch something crazy. We don't see it. But after Wednesday night, nothing in baseball makes sense anymore, so everyone's just guessing.
Prediction: Rangers in five.