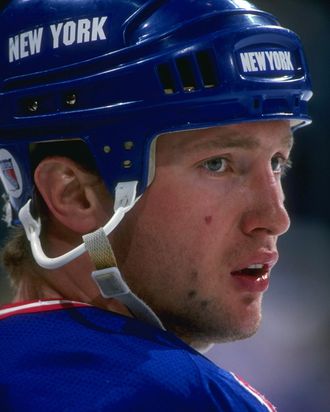 Yesterday's tragic crash of a plane carrying members of the KHL's Lokomotiv Yaroslavl claimed 43 lives, including those of several former NHL players. Some of those who were lost had ties to the Rangers: Defenseman Karel Rachunek, who played for the Rangers in 2003–04 and again in 2006–07; Jan Marek, who was selected by the Rangers in 2003 but never played for the club, and was part of the trade with the Kings that brought Sean Avery to New York in 2007; and Alexander Karpovtsev, who skated in six seasons for the Rangers and was a rookie during the team's memorable Stanley Cup run in 1994.
Karpovtsev, who was an assistant coach for Yaroslavl, played in 280 regular-season games for the Rangers, scoring 22 goals and adding 75 assists. He also played in 44 playoff games with the Rangers, including 17 of the team's 23 contests during the championship run in 1993–94. That spring, he became one of the first four Russian-born players to win the Stanley Cup, along with Alexei Kovalev, Sergei Zubov, and Sergei Nemchinov.
In the Post today, Larry Brooks spoke with former captain Mark Messier:
"It's like a punch in the stomach," Mark Messier said Wednesday. "Potsy always came to the rink with a smile on his face. He was a great teammate. He didn't know that much English when he came over but that never hindered him from fitting in with us.

"I loved the guy. It's just devastating."
Karpovtsev was 41.