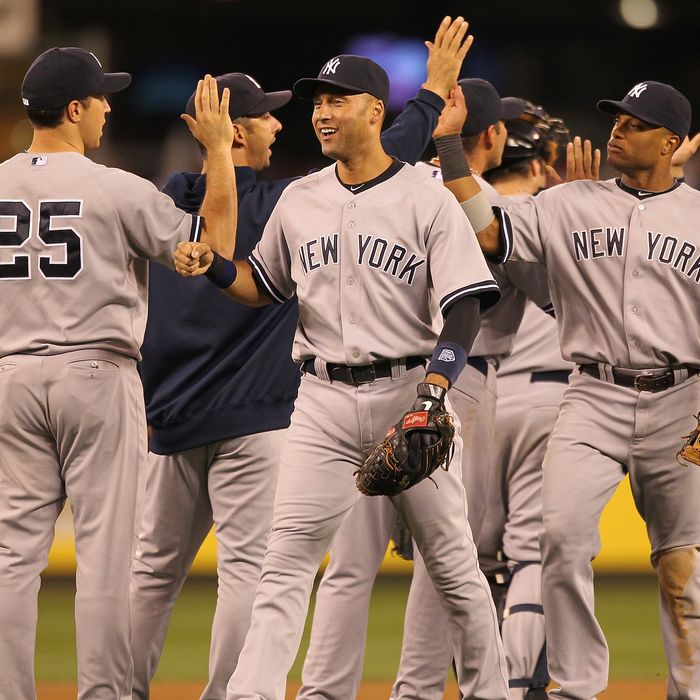 The Yankees celebrate last night's win.
Boston didn't play last night, but that doesn't mean Red Sox Nation didn't get two more reasons to panic. The red-hot Rays won yet again, and closed to within three games of Boston in the Wild Card standings. And the Yankees won, too, extending their lead in the A.L. East to four games. If you're keeping track of such things, the Yankees' magic number to eliminate the Red Sox from the division race is down to thirteen, and their number to eliminate the Rays from that race is down to ten.
Over the weekend, the Yankees' bats went quiet against the likes of Jared Weaver and Dan Haren, but last night, they pounded Felix Hernandez, scoring six times off King Felix in six innings. And though the Yankees' starters haven't been pitching under quite the same microscope since it became apparent Joe Girardi is in no rush to go back to a five-man rotation, Phil Hughes — looking to make a case to be one of the team's postseason starters — threw six strong innings to pick up his fifth win. The final 9–3 score, however, meant that Mariano Rivera will have to wait at least another day to try for career save No. 600.
The Yankees have sixteen games remaining — the final ten of which come against Boston and Tampa Bay. But first comes two more games against Seattle, three against Toronto, and a makeup game against Minnesota. Even if the Yankees hang on to their lead in the East, it's looking increasingly likely that they'll have a big impact in the Wild Card race. In the meantime, getting healthy before the end of the of the month is probably priority number one. But padding that division lead isn't very far behind.