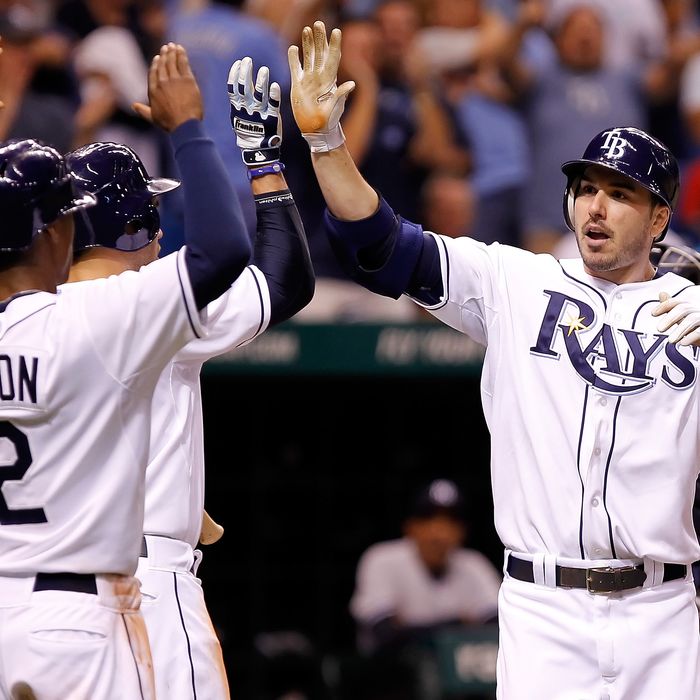 Matt Joyce celebrates his home run last night.
Last night, Rafael Soriano allowed a go-ahead three-run homer to Matt Joyce in the seventh inning. If Soriano does anything like that again in 2011, it could be devastating to the Yankees and their fans. But last night, when the Yankees had nothing to play for themselves? Honestly, it was kind of amusing.
It meant that Tampa Bay had a good chance to win the game — and they did, 5-3. Which meant that even if the Red Sox won (and they did, as well), the Rays would enter the final day of the season tied with Boston in the Wild Card standings. It meant that the Red Sox — who on September 3 had a 99.6 percent chance to make the playoffs — will see their season come down to game No. 162, and potentially even game No. 163. Boston may very well make the playoffs still, but at the very least, it means their fans will have to sweat this out until the very end. To Yankees fans, this is all kind of fun.
But it's also all very strange. First of all, there's the question of whether Tampa Bay would be a more dangerous opponent in the ALCS. Yankees fans may root for the Rays to make the playoffs now, but Tampa Bay has good starting pitching and, unlike the Red Sox, haven't been falling apart for a month now. There's no guarantee the Yankees would face either Boston or Tampa Bay in the second round — obviously, there's no guarantee the Yankees will even get that far themselves — but is it really in the Yankees' best interest for Tampa to get in? We're not so sure it is, and if it's not, is it weird if fans don't care? Is seeing the much-hyped 2011 Red Sox complete their collapse worth a potentially more difficult second-round match-up?
It's here we'll note that if either of those teams advances to the ALCS, they'd have to go through a good team first. And so either team could be tough to beat at that point. (For all their troubles, the Red Sox still have Jacoby Ellsbury, who is about the last guy we'd want to see in a big spot right now.)
But especially considering how heated the rivalry with Boston has been over the past decade, it's impossible not to root for the Red Sox to blow this, even if it means seeing an important member of the Yankees bullpen struggle in his final appearance before the playoffs. We hate ourselves for smiling when Soriano gave up that home run. After all, we should be rooting for our team, right? Isn't it strange to be primarily concerned, even temporarily, with the failure of another team?
But we did smile last night, and if Tampa finishes the day all alone atop the Wild Card standings, we'll smile again. We're not necessarily proud of this, but we're sure that we're not alone.