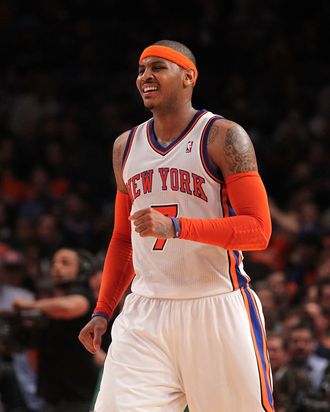 Basketball news that isn't about the lockout travels kind of slowly these days. There is a forced disconnect between players and their organizations, and guys have perhaps been more aloof than usual during the summer months, when they'd typically be training, playing, and healing under the watch of team personnel. If it weren't for Twitter, we wouldn't have a clue what basketball players were up to. Even still, stuff slips through the cracks. After last night's big pro-am event in Philadelphia (in which he registered 31 points and seventeen rebounds in a loss), Carmelo Anthony revealed that he'd had surgery at the beginning of the summer. Work was done to relieve the bursitis Melo had developed in his right elbow (the "Melbow"), which isn't particularly shocking. That wasn't all, though!
While Melo's Melbow was under the knife, his … um … Antho-knee got some work done as well. As Marc Berman notes in his report, Melo didn't complain of knee soreness during the season, but apparently had enough nastiness in his left one to invite an arthroscope in there during the shoulder surgery. Again, this was in May, and we're only just hearing about it.
The big, wonderful reason that this isn't major news is that Anthony is, by all accounts, fine and in good shape. He ended his summer-long absence from organized play (which makes a lot more sense now) a few weeks ago and logged the full 48 minutes of last night's exhibition. These aren't the most organized games in the world, but the point is that he's upright, active, and without pain.
So, all is well. Anthony's elbow and knee join Amar'e Stoudemire's back and Chauncey Billups's legs on the list of body parts that were in terrible condition at season's end and are now reported to be healthy. That's all great, although today's news raises some questions about those Knicks we haven't heard from or about. Don't be surprised if Toney Douglas shows up in November with a Mega Man–style cannon in place of his right arm. You never know during a lockout.