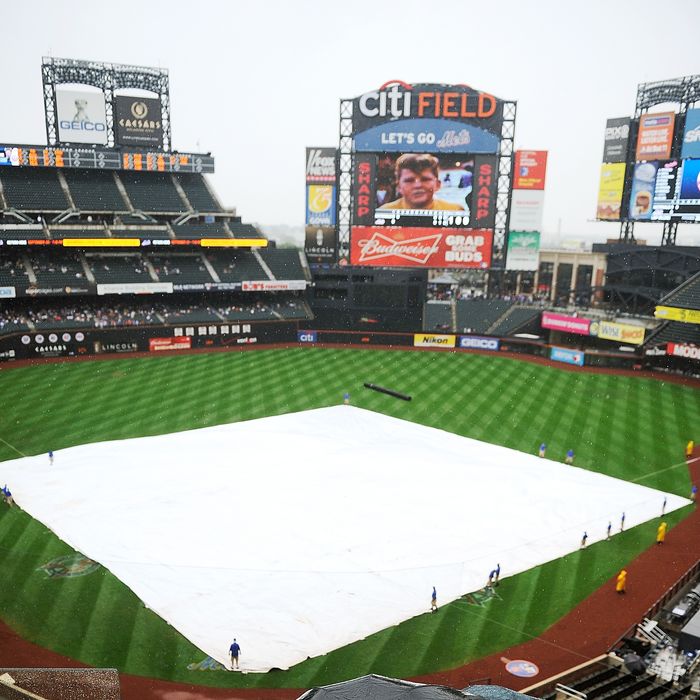 In its brief time as the Mets' home stadium, Citi Field has established itself as a vast, unforgiving realm for hitters. With an expansive outfield and a 16-foot wall in left field, the stadium contains a great deal of deep fly balls that would otherwise be home runs. Some numbers that Mets' GM Sandy Alderson would like to fix:
Three-year-old Citi Field has allowed an average of 1.32 homers per game this season, which exceeds only San Francisco's AT&T Park and San Diego's Petco Park in the National League. 

…

Alderson cited a statistic that 1.9 percent of balls in play are homers at Citi Field, versus a major league average of 2.5 percent across baseball. The Yankee Stadium average is 3.6 percent of balls in play are homers. 
Alderson has a few decisions to make. That big wall is, like, holding the building up, so it can only be moved or painted upon, not diminished. There's also the "Mo Zone", which looks like a giant chomp that some hungry giant took out of the right field wall. That should probably go as well. No matter what, dimensions are likely to be changed to get the above statistics closer to league average and make things a bit easier on the Mets. While we're at it …

They're going to fix up the Citi Field walls, but sap some of their character in the process. Here, free of charge, are some suggestions to spice things up while maintaining a commitment to easier offense:
• A fun-house mirror comprises the entire right-field wall.
• A rectangular, six-foot-deep depression extends for a large portion of the left-field line. You know, for the pit orchestra.
• Instead of using poles, foul territory is marked by two exceptionally tall twins named Herb and Quentin. They may shuffle side-to-side at their own discretion.
• A newly established New York State law equates the "robbing" of a home run to common larceny, punishable by up to ten years in prison.
• Quicksand warning track.
• Circular perforations in the center-field wall allow unruly cassowaries to peck at the genitals of any outfielder who dares approach it.
• A section of the left-field wall is a portal that transports the traveler to an unmanned, slowly sinking rowboat in the Long Island Sound.
• A secret door in center field leads to a small, dank cave in which Benny Agbayani can be found muttering and eating string.
Seems easy enough, no?