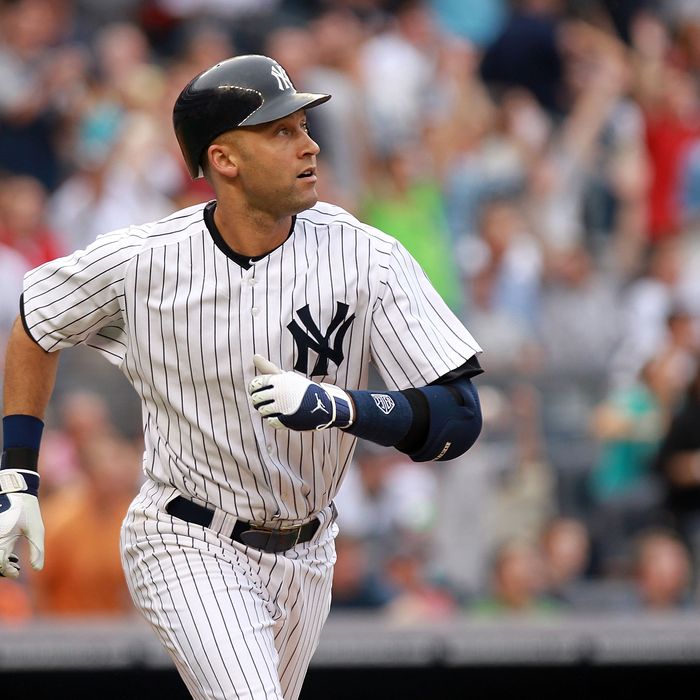 "All of Derek Jeter's critics earlier in the season are hiding under a rock somewhere. A big rock. They've disappeared. You never hear from them. What's happened?" — Tim McCarver, following Derek Jeter's home run off Jon Lester on Saturday
****

When Derek Jeter injured his calf on June 13, he was batting just .260, and his .649 OPS was well below his previous career worst, set last season. Everything from Jeter's tendency to hit the ball on the ground to the wisdom of his current contract was dissected, and many critics — including this writer — wondered how much longer the Yankees could stick with the status quo, batting him lead-off every day.
Since then, of course, Jeter has looked like a different player. The regular season ends tonight, and in the 68 games since returning from the disabled list, he's batted .335, with a solid .838 OPS. To put that in some context, Jeter has had nine seasons with an OPS higher than .838, and seven seasons with an OPS below .838. His total numbers for 2011 will still make this one of the worst years of his career — that's how bad he was through June — but over the season's final three months, he's put up pretty typical Derek Jeter numbers. Which is, obviously, great news for the Yankees.
It's also great news for someone like Tim McCarver, or anyone who wrote off the criticism of the Yankees captain. (Jeter is a leader and a champion, such a pundit would tell you, right before they questioned why you'd dare suggest that Jeter has flaws.) And so here's the question we must now grapple with: Was Tim McCarver (gulp) right? Well, not exactly.
We think we were fair to Jeter earlier in the season, as were plenty of people who suggested that his best days were behind him. We never suggested that he retire immediately, or anything like that. (We even made sure to remember to put our concerns aside and enjoy his pursuit of 3,000 hits, since that milestone presented the right opportunity to reflect on his outstanding career.) But it was impossible not to notice that he was playing his worst baseball in his late thirties, which is exactly when a ballplayer — even a future Hall of Famer — is supposed to see his skills diminish, particularly when he plays a difficult position like shortstop.
And the fact that Jeter had been trending downward was a concern, considering that he was under contract for two more years, at least, beyond this one. We feel like we had good reason to worry, and one didn't need to consult any advanced statistics to see that he hardly resembled, say, 2009 Jeter.
So what happened, exactly? Did a couple weeks off do him good? Was he really so affected by the chase for 3,000 hits that he looked like a different player once he reached the milestone? (And if that's the case, could he possibly have been pressing as far back as May of 2010, when his numbers really began to drop?) Or, to paraphrase John Sterling, is it simply the case that one can't predict baseball with absolute certainty?
At the end of the day, it's the last of those. His track record doesn't necessarily mean that he was above criticism, but that track record is the reason we can look at his improved play as a pleasant surprise, as opposed to an utterly inexplicable turnaround. (If, say, Ramiro Pena hits .335 as an everyday shortstop for three months, then we'll be truly shocked.) By the time he retires, we'll all surely have had the "Is Jeter finished?" debate at least once more. It'll be Jeter's performance that determines when that debate begins again.