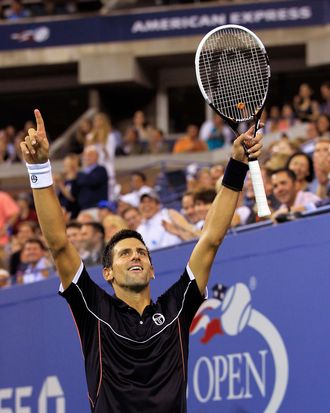 Here's something you won't often hear from a commentator during a tennis match: "The score is now fourteen love." Fourteen love? How is that possible? That's not the scoring for a game, and most tiebreaks only go past seven if there's less than a two-point difference. Oh, the commentator means fourteen games to love. Wait, how is that possible? Ah, the scary-good Novak Djokovic is playing an intimidating U.S. Open match against a poor journeyman (who shall remain nameless for his own protection).
Okay, it was Carlos Berlocq. Last night, in front of a bustling Arthur Ashe Stadium, the Argentinian went a humiliating fourteen straight games before he finally got on the board with what was likely a pity break of serve from Djokovic to get the New York crowd excited about something.  Berlocq began hamming it up, smiling at the Serb's overwhelming dominance, but it was just a way to get through those three excruciating sets. If Djokovic hadn't been so kind and playful in the last set, clearly trying to salvage the experience for the thousands in attendance, he absolutely would have given his ailing opponent the first triple bagel in 24 years. There was nothing Berlocq could do to stop him.
Despite Djokovic's kindness, the audience essentially did see a triple bagel last night, if you count the 6–0 set at the end of Caroline Wozniacki's match that preceded him. These one-sided score lines are the risk you run in the first week of a Slam, when the matchups sometimes border on ridiculous. But even projected popcorn matches can turn into a blowout. Yesterday's matchup between Bernard Tomic and Marin Cilic, which many assumed would be an enjoyable battle between two talented young stars, ended in a disappointingly one-sided win for Cilic, with a bagel and a breadstick in his favor (6–1, 6–0, 6–2). In fact, there were carbs scattered across many of yesterday's results:  Serena Williams (6–0, 6–1), Tomas Berdych (7–5, 6–0, 6–0), Marin Cilic (6–1, 6–0, 6–2), Francesca Schiavone (6–1, 6–1), Vania King (6–2, 6–0), Djokovic (6–0, 6–0, 6–2), and Wozniacki (6–2, 6–0), while a slew of others skated through in easy straight sets. In many ways, the day breezed by.
But then there was the match between Gael Monfils and Juan Carlos Ferrero, the sliding French wonder and the Spanish veteran. The two duked it out for nearly five hours in a five-setter on Louis Armstrong Stadium in surely the most entertaining match of the tournament so far. Monfils sprinkled his performance with his trademark dives, splits, and behind-the-back gets, and both men largely hit the ball cleanly and intelligently, resulting in excellent rallies time and again. The 32-year-old Ferrero already endured a five-set match in the first round, but he showed no signs of looking fatigued. In fact, he showed no signs of being out and injured for the majority of the year either. There were shades of his former glory, harking back to his most golden year when made a run to the U.S. Open final in 2003 and claimed the number one ranking.
There's something exhilarating about an erstwhile champion experiencing a fit of his peak form, like a beloved superhero coming out of hiding. Ferrero claimed the first set in a tiebreak, lost the next two with some overpowering play from Monfils, and then stormed back to take the fourth with an impassioned double fist pump. Immediately in the decider, Ferrero broke the exhausted Frenchman, who never managed to make it up.
At 5–4 in the final set, the crowd began clapping, as they normally do before someone is about to serve for the match. But the sound escalated until the majority of the stadium rose to its feet to applaud for a full minute. It was in recognition of both men, but it was Ferrero that looked moved. He walked up to the line, and as the applause faded, he took a deep breath and served for his biggest victory of the year, if not longer.