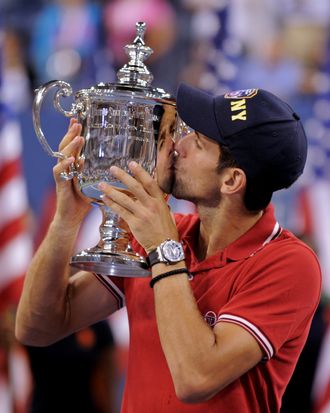 Hope that thing is clean.
Both Rafael Nadal and Novak Djokovic owe viewers worldwide an apology for completely frying their fragile nerves last night at the U.S. Open, in what was easily the most electric Grand Slam men's final we've seen in years. Although seemingly one-sided on paper, Nadal was constantly clawing his way back from the brink, like only he can, putting the eventual victor on edge. The astute James LaRosa, a columnist for the Tennis Channel, described it best: "I've never seen a scoreline that so misrepresented the quality and fight in a match; Nadal and Djokovic are at war." It was over four hours of physical, entertaining points that occasionally had the crowd outright yelling in the midst of play like this was a Davis Cup tie. If "Fedal" is over, and this is the face of the new rivalry in tennis, then sign us up for the regime change.
It wasn't necessarily heart-stopping at first. Nadal strung along for two sets, merely reacting rather than dominating. The story of the match early on was easy to sum up visually: Nadal hit shot after shot too short, allowing Djokovic to stand inside the baseline, dictating play by taking balls early, while Nadal stood several feet behind the baseline, scrambling to chase everything down. Just like Sam Stosur the night before, Djokovic was hitting unbelievable returns off Nadal's second serve, either at ridiculous angles or with such depth that Nadal was forced to react before barely landing from his serve. Nadal was being shoved around, and it looked like there was nothing he could do about it. 
But then, something snapped. And Nadal finally appeared to have had enough, of everything — the five losses to Djokovic this year in finals; settling for the number two ranking; the self-inflicted mind games; the two sets he just lost. Nadal dug his feet in, kicked up some dirt and began clawing his way back. His ground strokes began to penetrate the court. His loopy forehand began to flatten and find the line, and he effectively used backhand slice to push Djokovic back. The variety in pace, shots, placement, and angles from both men was just breathtaking. There wasn't an inch of court they did not cover, and the crowd was aware of it. At any given moment it seemed like everyone in the stadium was on the verge of completely losing it.
No matter how many times it looked certain that Djokovic had the third set in his pocket, Nadal would not concede. The Serb repeatedly kicked him down, but like the Black Knight or some unshakable foe in a movie, he kept coming back for more. That break point you just won? Tis' but a scratch. Merely a flesh wound.
Even though Djokovic was up two sets to love, he looked frightened by the now-snarling underdog across the net. Midway through the third set, he showed signs of fatigue and an aching back. Somehow, Nadal forced a tiebreaker, which he won fairly easily, and with Djokovic looking worse for wear, it suddenly didn't look so good for the man in the lead. He took a medical time out before Nadal's serve in the fourth set, however, which some will try to say was an act of gamesmanship to break Nadal's momentum. Regardless of whether that was the intended effect, there's no doubt that it did alter the tenor of the match. Nadal quickly fell behind, looking exhausted himself, and Djokovic finally put the beast to rest. None of his Slams this year felt so hard-won.
During the trophy ceremony, there were shades of the Australian Open when Roger Federer — who had just lost to Nadal again after that epic 2008 Wimbledon final — began to cry during his runner-up speech. Similarly, Nadal faced another loss to an opponent he just can't figure out. "I have to accept that I won a lot in the past," Nadal touchingly said of his latest rival. 
Later, in his press conference, he continued. "Six straight losses, for sure that's painful," he said. "But I'm going to work every day until that changes. [You must] accept the challenge and work." 
There's still the Asian swing left for the 2011 tennis tour, but who would ever know the season continues after this, based on the significance and finality of this match? Djokovic goes forth with one of the greatest seasons in tennis history, with three Slam titles and only two losses (very Federer-esque), as well as a definitive stronghold on the tour for the following season. In the meantime though, the famously wheat-free champion announced in his press conference that he will celebrate by consuming "a bunch of gluten." Oh, and alcohol. He certainly deserves it.