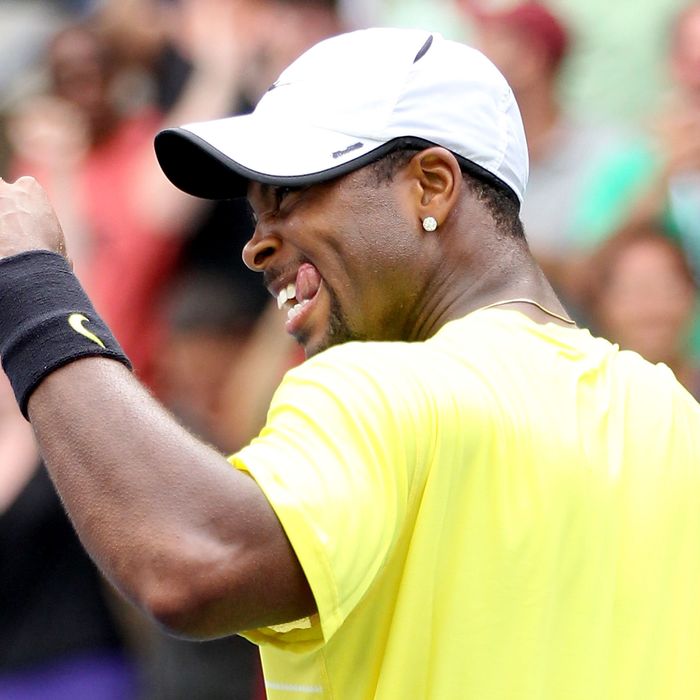 Something good just happened.
One of the greatest stories to arise from the U.S. Open this year has been the success of America's own Donald Young. Ranked number 84 in the world, Young has ousted two seeded players to reach the second week of a Grand Slam for the first time in his career. Although every year there's an upstart who manages to capture the imagination of the New York crowds with unexpected success, these players are usually virtual unknowns before their run. But unlike Ryan Harrison last year or Melanie Oudin before him, Donald Young's breakthrough comes attached with a well-known and tumultuous backstory.
Many tennis fans are very familiar with the Young saga, which basically goes like this: A 10-year-old Young hits with John McEnroe, who is so impressed he tells his agent to sign the kid. At such high praise from an all-time great, media attention and endorsement deals flood in: Young is suddenly the next big thing. But he failed to progress as a professional, frustrating both himself and his supporters. The United States Tennis Association — an organization charged with the task of cultivating American champions — actively tried to persuade the player to use a coach other than his parents; team Young refused. He continued to flounder, with a ghastly win-loss record in pro-level matches. 
Despite his failings, the hype still pushed Young to exhibit a sense of entitlement. The USTA asked him and other talented young players to compete in a playoff to earn the organization's wild card for the French Open this spring. After Young lost in the final round, he took to Twitter and reamed the organization for "screwing him." (The language got more colorful than that.) 
Young quickly deleted his account, but the digital tongue lashing did not die. An appalled Pat McEnroe — general manager of player development for the USTA — held a phone press conference to reprimand Young and demand an apology. Many in the industry were finally declaring an end to the 22-year-old's former potential.
But then this summer, the skies suddenly began to clear. In Washington, Young made his first semifinal at an ATP event, taking out Jurgen Melzer and Marcos Baghdatis along the way. And because of the wonderful nature of tennis bedfellows, Young's most public critic was on set at the ESPN studio to interview him post-quarterfinal victory. The potentially cringe-worthy moment between McEnroe and Young was oddly devoid of tension. The two even laughed together.
The tennis elite didn't begin to posit a genuine change until just last week. Young did in fact receive another wild card, and he won his first U.S. Open match, as well as the dubious reward of facing last year's quarterfinalist Stan Wawrinka in the second round. The kid took the first set in a tiebreaker, but then lost the second and third. The wildly pro-Young crowd at the sunken, secluded Court 17 egged him on to not only win the fourth set but claim the fifth as well. Through it all, Young remained composed and mature. McEnroe tweeted shortly after, "In tennis terms Donald Young became a man today." He had fought hard for his victory, and — with an additional straight-set win over Ignacio Chela in his following match — he had proven his worth.
Young will now log his first second-week appearance at a Grand Slam with his upcoming round of sixteen match against Andy Murray today (or whenever the weather allows it). Young defeated Murray in Indian Wells this year, his highest-ranked scalp to date. But Murray was a different player then, wallowing in a disappointing loss at the Australian Open final. Still, the Scotsman's play in Flushing has been erratic, and a charged pro-Donald crowd in the intimate Grandstand setting could affect his temperament. Young has said many times that the crowds at the U.S. Open have been a crucial element in pushing him across the finish line. It must be a good feeling for the forgotten prodigy, that feeling of support and allegiance.
Regardless of whether Young loses to Murray, he has already earned something incredibly valuable (and crucial) for his still fledgling career: maturity.