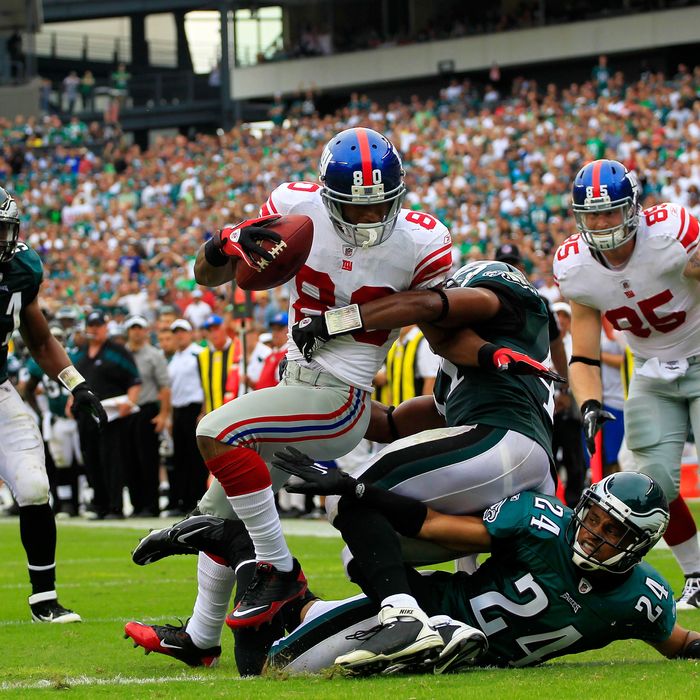 The Giants hadn't defeated the Eagles since November of 2008, and the teams' last meeting ended about as badly as a football game can end. So between the teams' recent history and all the hype surrounding the 2011 Eagles, yesterday's Giants win (in Philadelphia no less) was especially sweet. The 29-16 win gives the Giants a 2-1 record, and especially considering all that's happened to the team since the lockout ended, it also gives their fans something to get excited about.
There was quite a bit for Giants fans to get exited about, in fact: Eli Manning threw for four touchdowns, and led an offense that looked refreshingly coherent. Victor Cruz, previously best known for his preseason work, scored two touchdowns in Mario Manningham's absence. (That he made the Eagles secondary look so bad on occasion was something of a bonus.) The Giants didn't turn the ball over once, while the Eagles quarterbacks threw three interceptions. (One of those was thrown by Vick, who broke his hand during the game.) And, to those of us still not fully recovered from last December's breakdown at the Meadowlands, it was nice to see the Giants finish strong after giving up their early lead.
The game's big story, nationally at least, was Vick's injury, and his post-game comments that he believes he's treated different by officials. And of course, Vick's health matters a great deal to the the division rival Giants, who, just as a reminder, currently have a better record than the Dream Team Eagles. (Vick, according to one report, will miss 3–4 weeks.) But it wasn't long ago that Giants brass was trying to convince people that the team wasn't as bad as everyone feared. Now, with two straight wins including an impressive one in Philadelphia, the team, too, is giving us all reasons to be optimistic.