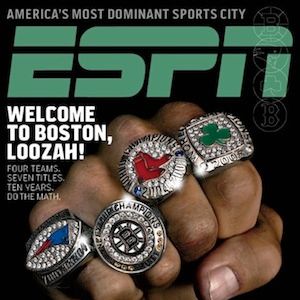 ESPN's Department of Bluster appears to have had its say in the publication of the ESPN The Magazine's new issue, coming out this Friday. Via this Deadspin post by Emma Carmichael, the cover of ESPN welcomes you to Boston, "America's Most Dominant Sports City"; calls you a "loozah"; presents a bunch of universally known numbers describing Boston's dominance (although not in the "number of teams" category because New York has them beat by a long shot there) and commands you to "do the math" (what math?); asks if Tom Brady is "too pretty" (for what? homework?); teases a name-calling battle between Denis Leary* and Artie Lange; and then allows Bill Simmons to dismiss the entire endeavor. Oh, and there's an NHL season preview. And a massive, ring-laden hand with a chipped thumbnail.
So, yeah, that sounds super appealing.
The timing of this is, of course, pretty silly to those of us who fall on the New York side of the rivalry, (Artie Lange sympathizers, as it were) or at least find this kind of beef-baiting bombast to be insufferable. On the day this issue drops, the Red Sox will begin a series with the Yankees, the "loozahs" who just clinched the AL East and more or less control Boston's playoff fate (unlikely as their demise may be). So that's fun.
One would hope and imagine that Bostonians share Carmichael's sentiment (and she's a Boston fan herself) that the whole concept is unseemly and more than a little embarrassing. Others will likely be wriggling with self-validating excitement throughout the entire issue, until they get to the Simmons article and decide that it was totally a bad idea, bro. As somebody with a healthy distaste for all Boston sports teams, I'll probably ignore the issue, and I suggest you do the same.
*This post has been corrected to show that it is Denis Leary, not Dennis Miller, who wrote for the issue.