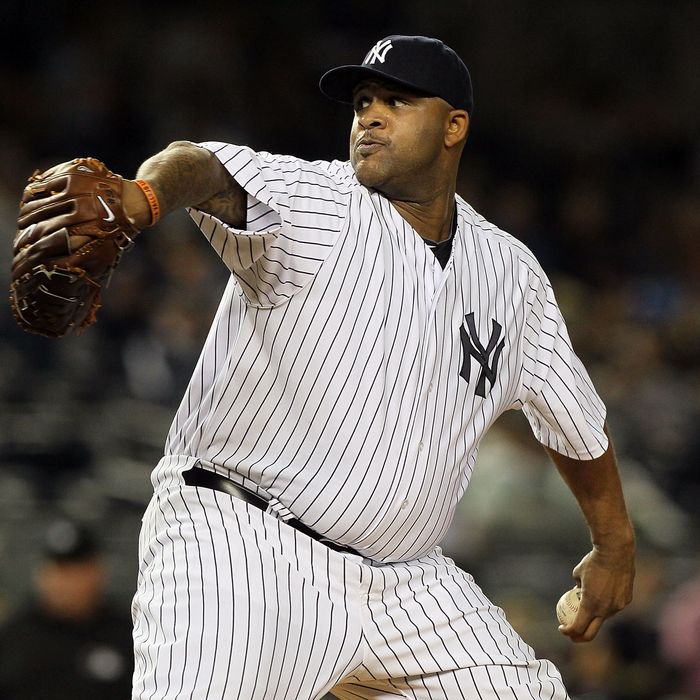 First of all, just a quick reminder to Yankees fans: It's time to start rooting for your team again tonight. We understand that the last week has been rather confusing: At one point, you may have found yourself rooting for Kyle Farnsworth to retire Yankees batters. And that's okay (more or less). But no more of that now. When CC Sabathia throws his first pitch tonight, the days of meaningless games officially end. No more resting regulars, no more letting relief pitchers start games. It's go time now.
Speaking of Sabathia, it's been a while since we've seen him pitch. He hasn't appeared in an actual ballgame since September 21, with the Yankees choosing to let him throw a simulated game last Sunday, four days after that outing. And so with Justin Verlander pitching for the Tigers tonight, it shouldn't be overlooked that the Yankees have an ace of their own.
Truth be told, Sabathia hasn't been quite as sharp of late: His best stretch of the season lasted from late June to early August, and his ERA is over four since August 6. (Perhaps Sabathia was affected by pitching on longer-than-usual rest, and if so, does that matter tonight, five days after a simulated game but nine days after a real one?) Sabathia nevertheless turned in another excellent season, and the Yankees are counting on him more than ever this year, considering the state of the rotation behind him.
Let's also not forget the Yankees strengths: Their 867 runs this year were second in the American League, and more importantly, their run differential of +210 was best in the majors, better even than Philadelphia. (We also like the idea that Robinson Cano, the scariest hitter in the Yankees' lineup, could bat third in this series against Detroit's right-handed starters.) The Yankees also have a strong bullpen, provided their starter can go at least six innings.
For our money, this is the most intriguing of the four division series: Two teams that ran away with their divisions, bona fide aces on both sides, a handful of star hitters, all played (for the first three games at least) in prime-time. We expect this series will go the distance, but if it does, it'll be Verlander against the rookie Ivan Nova. And nothing against Nova, who's had a fine rookie season, but Justin Verlander pitching a deciding Game Five is exactly why a team like Detroit is a tough draw in a best-of-five series.
Prediction: Tigers in 5